Overview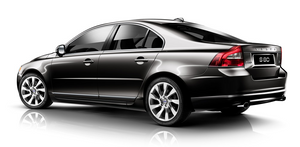 The Volvo S80 is a luxury car that offers distinctive Scandinavian design, innovative technology, a refined ride, spaciousness and comfort. This luxurious and modern Volvo is an elegant premium-badge alternative to big-selling German executive cars and reinforces Volvo's leadership in safety, quality and environmental care. Yet it's also a car that offers high levels of driving enjoyment, thanks to extensive development on UK roads, powerful new engines and advanced chassis dynamics.
Three new turbodiesels that reduce both fuel consumption and emissions are welcome additions to the model. These include two frugal five-cylinder, 2.4-litre turbodiesels - the 2.4D (175PS) and D5 (205PS). The 2.4D now offers 175PS, 420Nm of torque from 1500-2750rpm and 0-60mph in 8.4 seconds. The D5 has 205PS, 420Nm of torque from 1500-3250rpm and 0-60mph is possible in 7.5 seconds (8.5 Geartronic).
Both engines deliver excellent fuel economy with up to 60.1mpg and 47.9mpg for the 2.4D on the extra-urban and combined cycles, and 56.5 mpg and 45.6 mpg respectively for the D5.
Meanwhile, a new entry level 1.6D DRIVe engine delivers class-leading CO2 emissions of just 129g/km plus 57.7 mpg on the combined cycle.
Engine choice also includes a high-performance 315PS V8, used in a top-of-the-range All-Wheel-Drive (AWD) version and a 2.5T 231PS petrol unit.
The new Volvo S80 features a number of exterior design changes that have resulted in a lower, longer and wider stance, further increasing the car's appeal. Despite the new look however, the latest S80 is unmistakably Scandinavian in style and functionality.
"We're challenging the very best in the segment by offering refined Scandinavian luxury," says Stephen Odell, president and CEO of Volvo Cars. "The new Volvo S80 has clean and elegant lines combined with intelligent functionality."
Volvo expects that the new range of engines, advanced ride and handling, distinctive Scandinavian design and its latest advances in safety technology will boost the S80's UK sales, especially in the corporate sector. The new DRIVe models will hold particular appeal here thanks to low CO2 emissions and impressive fuel economy for such a large car.
The Volvo S80 is class leading in safety and personal security. Technical innovations include a Personal Car Communicator, which checks if the car is locked or unlocked, if the alarm has been activated, and can also sense if anyone is in the car uninvited. A Collision Warning with Auto Brake helps to avoid running into the car in front, while a Blind Spot Information System (BLIS) registers if another vehicle is in the blind spot, alongside the car.
The new model also features two new chassis for enhanced comfort and driveability. The Lowered Dynamic option delivers greater poise and athleticism on the road, while the Comfort chassis is tailored to suit a more gentle, relaxed driving style.
See also:
Voice control support features
Tutorial: A feature that helps acquaint you with the system and the procedure for giving commands. Training: A feature that enables the voice control system to become familiar with your voi ...
Windows and optional moonroof
The ECC system will function best if the windows and optional moonroof are closed. If you drive with the moonroof open, we recommend that you manually adjust the temperature and blower control (th ...
Applicable warranties Ц U.S./Canada
In accordance with applicable U.S. and Canadian regulations, the following list of warranties is provided. Х New Vehicle Limited Warranty Х Parts and Accessories Limited Warranty Х Corrosion Pr ...