Quality and equipment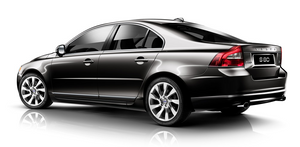 In line with Volvo's commitment to quality and the environment, all interior trim materials conform to the internationally recognised, ecological Oeko-Tex standard, and are emission-free to reduce allergic reactions and skin conditions. The Volvo S80 goes one step further by offering an optional Clean Zone Interior Package (CZIP) that provides clean cabin air to standards approved by the Swedish Asthma and Allergy Association. Volvo's Clean Zone Interior Package (CZIP) features an automatic air purging system. When the car is unlocked by the remote control, the passenger compartment is automatically ventilated for about one minute if the outside air temperature is above 10 degrees Celsius. Carefully selected trim materials, which minimise emissions of harmful substances, further helps to provide cabin air to a standard that is approved by the Swedish Asthma and Allergy Association.
Trim levels - SE, SE Lux and Executive
Volvos typically come much better equipped than rival German prestige cars and have their own distinctive Scandinavian design, and the Volvo S80 is no exception.
SE
The SE has Sundby Textile/T-Tec upholstery, electrically controlled driver's seat, 17in alloy wheels (16" on 1.6D DRIVe model), a High Performance eight-speaker audio system with 160-watt output and 1xCD, plus automatic sensing wipers, Cruise Control and autodimming rear view mirror. It is also distinguished by colour co-ordinated front spoiler and side mouldings.
SE Lux
The SE Lux model has leather-faced upholstery, heated and powered front seats, rear park assist, Active Bending headlamps with cleaning system, and cross brushed aluminium cabin trim.
Executive
On the range-topping Executive model, the seats and door panels are offered in exclusive soft Executive ventilated leather upholstery with massage function and door inserts including extra padded front armrests with four unique colour combinations. The ultimate Dynaudio Premium Sound Audio System and RTI satellite navigation are also standard. A fridge in the rear seat, complete with glasses, is available as an option. Executive models also feature metallic/pearlescent paint and 18" alloy wheels as standard.
Premium upgrade
The Premium model is the ultimate upgrade. The combination of Leather-faced upholstery, Satellite Navigation System (RTI) and DAB Radio is designed to complement the existing high levels of specification on SE and SE Lux models.
Audio systems
Volvo has its own team of audio experts and has a well deserved reputation for high quality audio systems. The all-new Volvo S80 has been designed to offer the best sound experience in the class. High Performance and the ultimate Dynaudio Premium Sound Audio Systems are offered.
The top-of-the-range Dynaudio Premium Sound Audio System, one of the very best in the automotive world, combines a digital amplifier, Dolby Pro-Logic II Surround and 12 speakers from renowned Danish speaker manufacturer Dynaudio. Thanks to the digital amplifier, the sound automatically adjusts to compensate for outside noise influences. Volume and tone both adjust. The amplifier has a very high damping factor, thanks to the ICEPower technology from Danish hi-fi experts Bang & Olufsen. This system contributes to the clear and powerful sound all the way down to the deepest bass notes.
Other S80 models feature the High Performance audio system, which uses a 4x40W amplifier and eight speakers to deliver superb audio quality
Both sound systems feature an extra input for connection to portable MP3 players, enabling them to be mated to the car's audio system.
Bluetooth®
Bluetooth®, the advanced wireless system, enables your mobile phone to be connected to the car's loudspeaker system. This allows for perfect sound and minimises the interference often experienced when a mobile is used while driving.
The Volvo S80 driver can tailor the car's comfort features to his or her own needs and tastes. These parameters are set in the car's information system. The menu covers features such as the seats, rear-view mirrors, climate unit, audio system, navigation and, to a certain extent, the car's driving properties too.
Rear seat DVD
The Volvo S80 can be fitted with an advanced rear seat entertainment (RSE) system. An integrated DVD player, twin eight-inch flat-screen monitors built into the front seat headrests, wireless headphones and remote control are all included. An extra socket means it is possible to connect an additional DVD player or video game. The two screens can then be used independently. A Digital TV option is also available to supplement the RSE system. This new option enables passengers to watch Freeview channels.
Volvo owners can personalise their car by choosing options. Many are conveniently grouped together, such as the Winter, Communications, Driver Support Pack and R-Design Interior Pack:
Winter pack: heated front seats, headlamp cleaning system, luxury floor mats and heated washer nozzles
Communications pack: Satellite Navigation System (RTI with RDS-TMC, remote control, Europe DVD maps, PCC (Personal Car Communicator) with Heartbeat sensor and Keyless Drive and Bluetooth® handsfree system.
Driver Support pack (not available on DRIVe, 2.0D): BLIS (blind Spot Information System), ACC (Adaptive Cruise Control) with Distance Alert and Collision Warning with Auto Brake and LDW (Lane Departure Warning) with DAC (Driver Alert Control).
R-Design Interior Pack (SE Premium and SE Lux Premium Models): Dynamic Sports Leather-faced front seats, R-Design Leather Sports Steering Wheel, Sports Gear Knob, Unique Instrument Dials, Aluminium Trim, Sports Floor Mats.
Design Pack (not available on DRIVe models): Metallic or InscriptionTM paint, 18" alloy wheels and Bluetooth®.
Volvo's Satellite Navigation System (RTI) features RDS-TMC (Traffic Message Channel) which displays up-to-date information on traffic problems. It has a large colour screen that rises from the top of the dashboard to be safely positioned in the driver's view. This is linked to a map system that displays information for most of Europe, and shows any traffic problem areas by a set of red or yellow symbols to indicate the severity of any congestion. Controls on the steering wheel make it easy for the driver to use the system, which can display information on the traffic areas highlighted; alternatively, there's a remote control unit for passengers to use. Volvo's Satellite Navigation System (RTI) allows alternative routes to be plotted faster than before, and there is more detailed information, including local speed limits when a national border is crossed. It also includes European mapping.
Volvo On Call - advanced telematics: Volvo On Call is a valuable personal safety feature using advanced telematics. The system uses an integrated GSM telephone with a built-in GPS unit for satellite positioning, and ensures help is always close at hand.
Volvo On Call - safety package: Volvo On Call comes with a standard safety package. If an airbag or seatbelt pre-tensioner is triggered in the event of an accident, Volvo On Call automatically calls the Emergency Services via BT999 and can also provide data of your location. Alternatively, pressing the red 'SOS' button on the integrated GSM telephone will put you straight through to the Emergency Services.
Also, if the car breaks down or you need help, pressing the Volvo On Call button will put you straight through to a Volvo On Call operator who is only a call away at any time of day to offer personal services such as route guidance, or to guide roadside assistance to you.
Volvo On Call - security package: An optional Volvo On Call security package offers the added benefits of a remote door unlock facility, theft notification and vehicle tracking.
Warranty
This quality assurance package is backed up by a comprehensive warranty. The standard mechanical warranty is three years/60,000 miles, there's a three-year, unlimited-mileage warranty on the paintwork and either eight or 12 years' cover against rust perforation. In addition, all Volvos are covered by one year's free Volvo Assistance cover (extendable up to three years), which provides full breakdown and recovery assistance, anywhere in Europe, 24 hours a day.
See also:
Use of Additives
With the exception of gas line antifreeze during winter months, do not add solvents, thickeners, or other store-bought additives to your vehicle's fuel, cooling, or lubricating systems. Overuse ...
Lowering the spare wheel
The spare wheel is located under the floor of the rear cargo compartment. It can be lowered using the crank (see previous page for location). WARNING When raising or lowering the spare wheel, ple ...
Call volume
Call volume can be only be adjusted during a call. Use the buttons in the steering wheel keypad or the infotainment system's VOL control. ...