Volvo manuals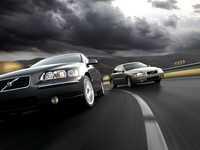 Swedish-born Volvo has long been a forerunner in safety research, and its vehicles have the crash test scores to prove it. These days, the brand has improved its offerings by crafting vehicles that also offer generous amounts of style and performance.
In Latin, the word "Volvo" means "I roll." Volvo cars have been rolling ever since 1927, when the first vehicle (nicknamed "Jakob") was produced in the city of Gothenburg. The company's founders, Assar Gabrielsson and Gustaf Larsson, put an emphasis on safety, and that dictum still holds true today.
It's unknown how Volvo's new owner will guide the brand long term, but chances are Volvo will continue to offer sedans, coupes and SUVs known for their combination of safety and driving excitement.
Categories