Driving dynamics: engines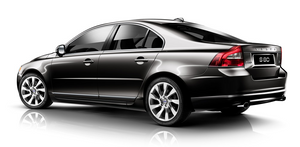 The Volvo S80 is the best handling, most agile, and best-performing big Volvo saloon ever. New versions of Volvo's renowned five-cylinder common-rail diesel engines produce excellent fuel economy and performance, while the arrival of the 1.6D DRIVe model delivers big car comfort with reduced fuel costs and lower CO2 emissions that cut road tax bills.
First V8 Volvo saloon
The S80 was the first Volvo saloon ever to use a V8 engine. Its compact design, with a close angle of just 60 degrees between the cylinder banks enables it to be installed transversely under the bonnet of the Volvo S80, conferring substantial safety advantages. It also improves packaging, and is one reason why the Volvo S80 is so roomy.
The left-hand bank of cylinders is also offset slightly relative to the right bank - the opposite of normal V8 design. This has enabled the unit to be designed exactly to match the front-end collision protection structure.
The counter-rotating balancer shaft between the banks makes this engine one of the world's smoothest running V8s.
The 4.4-litre V8 engine is immensely powerful, with a maximum of 315 PS and no less than 440 Nm of torque at 3950rpm. They jointly satisfy the needs of particularly enthusiastic driving or effortless motorway cruising. There's a massive 370 Nm of torque available around 2000 rpm - the most common rev range in everyday driving. Variable camshaft timing as well as a variable intake system improves both fuel economy and the spread of torque.
Top speed of the V8 AWD Volvo S80 is 155mph, and with the standard Geartronic transmission 0-60 mph acceleration takes just 6.0 seconds. It can achieve 34.0mpg and 23.7 mpg on the extra-urban and combined cycles respectively.
"This powerful V8 means we can reach out to the most discerning of customers," says Derek Crabb, Vice President of Powertrain at Volvo Cars. "In the prestige class, there are many buyers who would never consider any other engine alternative."
Furthermore, this is one of the cleanest and most economical V8 engines on the market with CO2 emissions of 284 g/km.
Five-cylinder turbo petrol (2.5T)
Volvo's familiar and popular light-pressure turbo five-cylinder engine, the 2.5T has been re-engineered for 2010 to deliver more power - up 31PS to 231PS - and 340Nm of torque.
The 2.5T remains an extremely compact unit, partly because the turbocharger has been integrated into the exhaust manifold. Top speed is 130 mph for both manual and Geartronic versions, and 0-60 mph acceleration takes 6.9 seconds (man) and 7.1 seconds (Geartronic). Fuel economy improves to 44.8mpg (40.9mpg Geartronic) and 32.8mpg (29.4mpg Geartronic) on the extra-urban and combined fuel economy cycles and CO2 emissions drop to 206g/km (229g/km Geartronic).
Five-cylinder diesel engines - 2.4D and D5
There are two versions of Volvo's 2.4-litre, five-cylinder common-rail direct injection diesel engine available for the all-new Volvo S80. Both have been revised to deliver more power and torque to increase driveability - the 2.4D now offering 175PS, 420Nm of torque from 1500-2750rpm and 0-60mph in 8.4 seconds. The D5 has 205PS, 420Nm of torque from 1500-3250rpm and 0-60mph possible in 7.5 seconds (8.5 Geartronic).
Both engines deliver excellent fuel economy with up to 60.1mpg and 47.9mpg for the 2.4D on the extra-urban and combined cycles, and 56.5mpg and 45.6mpg respectively for the D5.
CO2 figures
With CO2 emissions of 155g/km, the 2.4D powerplant also slots in beneath the all-important 160g/km threshold governing new Writing Down Allowances for company cars that were introduced in April 2009.
"This is yet another step in our determination to reduce the combustion engine's environmental impact, at the same time as we give customers even more refined and sophisticated engines with excellent performance," says Derek Crabb, Vice President, Powertrain Engineering at Volvo Cars.
New high-performance D5 engine
The performance and drivability requirements in the high-performance D5-engine have been solved with twin turbochargers of different sizes that operate in sequence to provide added power over a broader rev range. The result is an engine that delivers an immediate response from the lowest engine revs without any perceptible turbo lag. It also offers rapid acceleration at all speeds, with smooth power delivery between the power bands of both turbo-charger ranges.
This twin-turbo technology in the D5 has also made it possible to introduce higher levels of exhaust gas recirculation (EGR) across a wider rev range. This harnesses the two turbochargers' different properties to deliver a combination of high performance and low fuel consumption.
The advanced fuel injection technology uses piezoelectric fuel injectors. This provides precise distribution of the atomised fuel in the combustion chamber, resulting in efficient combustion and low emissions.
New single-turbo 2.4D
The main focus for the new 2.4D engine was to reduce fuel consumption and consequent emissions. The injection system features a different type of piezoelectric fuel injectors to the D5, which aims to cut fuel consumption through extremely rapid and precise injection sequences. The high injection pressure results in an effective combustion. To promote the driveability, the single turbocharger has been optimised to produce high torque from low revs.
Mutual technology
The two new diesel engines share a number of technology solutions. The engines have lower compression, more efficient combustion and the latest generation of engine management. Volvo Cars' powertrain experts have reduced internal friction and pump losses in the diesel engines. The pressure drop in the intake and exhaust system has also been reduced.
The new turbo diesels have also been equipped with ceramic glow plugs, a high-tech solution that delivers improved starting properties owing to very quick warming up. They reach a temperature of 1,000 degrees Celsius in just two seconds, making the engine easy to start and helping to cut emissions. In certain driving conditions, such as at really low engine revs, the ceramic glow-plugs can also be used to increase the temperature in the cylinders, further improving combustion efficiency.
DRIVe
The new Volvo S80 range will also be offered with a DRIVe option for the first time. Power will come from a 109PS four-cylinder 1.6D turbodiesel engine to deliver a car with the comfort and luxury expected of a large saloon, but with the emissions of a much smaller vehicle. The S80 DRIVe will return up to 57.7 mpg on the combined cycle while emitting just 129 g/km CO2.
"More buyers than ever are focusing on fuel economy and it's important to give them more choice," says Chris Wailes, Product Manager at Volvo Car UK. "The 1.6D DRIVe model enables customers to enjoy the benefits of a large saloon with the reduced fuel consumption and lower emissions, and therefore lower running costs, that are made possible with the DRIVe technology."
2.0D diesel engine
The transverse mounted four-cylinder 2.0D diesel engine features a lively 136PS and 320Nm of torque. This high-technology, eco-friendly engine uses second-generation common-rail diesel technology and is fitted with a maintenance-free, regenerating diesel particulate filter. Top speed is 124mph, 0-60mph acceleration takes 10.4 seconds and, most pleasingly of all, combined fuel consumption is a frugal 49.6mpg.
Six-speed automatic or manual gearboxes
The five-cylinder diesel and petrol engines are offered with a choice of six-speed manual or six-speed Geartronic gearboxes. Geartronic allows a driver to change gear manually, as well as enjoy full automatic transmission. Geartronic automatic transmissions are standard on the V8 and an option on the 2.5T, 2.4D and D5.
The new DRIVe models come with a 5-speed manual gearbox, while the 2.0D, 2.5T, 2.4D and D5 are available with a six-speed manual.
The V8 gets all-wheel drive with Instant Traction as standard, while all other models in the Volvo S80 range are front-wheel drive.
Two new chassis - Lowered Dynamic and Comfort
The driving dynamics and ride of the new Volvo S80 have been updated and improved by the introduction of two new chassis - the Lowered Dynamic Chassis and the Comfort Chassis.
The Lowered Dynamic Chassis will be offered as standard on the SE and SE Lux models. The Comfort Chassis will be the only chassis available on the Executive trim level.
The Lowered Dynamic Chassis has been developed to offer drivers enhanced sporting driving characteristics and more responsive handling, while the Comfort Chassis offers a compliant and smooth ride. The introduction of these new chassis' gives customers the opportunity to tailor their S80 to suit their driving style - for inspired and enthusiastic driving or relaxed comfort.
"For some customers, the driving experience is most important, while others prioritise ride comfort," says Stefan Sällqvist, section manager for vehicle dynamics at Volvo Cars. "We analysed the different requirements and designed two alternative chassis with entirely different natures."
Lowered Dynamic Chassis gives a sporty profile
In order to meet the demands of Volvo S80 customers who are more interested in driving dynamics, Volvo has made the Lowered Dynamic Chassis far more taught and rigid. The car has been lowered by 20 millimetres at the front and 15 millimetres at the rear. This results in a lower centre of gravity enhancing the driving characteristics as well as visually lowering the profile of the car.
In detail, the Lowered Dynamic Chassis benefits from shortened coil springs and higher spring rates, while the shock absorbers have been given greater damping ability on both compression and extension strokes. All the mountings on the sub-frame have harder bushings and the anti-roll bars have also been strengthened to give increased side stability in corners. All of these changes result in a more direct steering feel and increased control, particularly during dynamic driving. This is further aided by the steering gear which has been tailored to provide a quicker response, all adding up to more direct contact between the tyres and road surface.
To provide additional stability, the Lowered Dynamic Chassis is fitted with automatic levelling to keep the car's body perfectly positioned with the road surface whatever the driving conditions, both when fully loaded and with only the driver on board.
"The new Lowered Dynamic Chassis provides the highest levels of sporting driving in a Volvo," says Stefan Sällqvist. "The car has a completely new character and it feels far more compact and agile on the road. For those interested solely in a smoother ride, we have the Comfort Chassis dedicated entirely to providing luxurious ride comfort."
Comfort Chassis offers a smooth ride
In parallel with the development of the new Lowered Dynamic Chassis, the standard chassis has been re-engineered with the highest levels of comfort as its goal. It now offers an uncompromisingly comfort-orientated ride with softer springs and more subtle damping to deliver a ride comfort of complete luxury for all occupants.
AWD with Instant Traction for S80 V8
To handle the impressive power and torque of its new V8 engine, the flagship Volvo S80 V8 is equipped with All Wheel Drive (AWD) as standard. It offers better handling on slippery surfaces, such as snow or icy roads, and also avoids the torque steer that's sometimes found in very powerful front-drive cars, so it always offers maximum traction and optimal handling.
Instant Traction, a Volvo patented system, switches power instantly from front to rear (or vice versa) to help start from very slippery or loose surfaces. The AWD system operates independently of driver input, distributing torque automatically between the front and rear wheels for the best possible grip in all conditions.
A 'pre-charged' function uses a non-return valve within the coupling, making 80Nm of torque instantly available to the rear wheels if the sensors detect any slippage. It feeds more power to the rear wheels as the car pulls away to improve acceleration. Once moving, power is balanced between front and rear, reducing drive to the rear wheels when not needed, and reducing fuel consumption.
The intelligent AWD system uses a variety of sensors to monitor the road surface and the steering wheel, brake and accelerator pedal positions. In normal driving conditions on dry roads, almost all the power is distributed to the front wheels. However, for off-road work, or if the sensors detect slippage, torque is diverted to the rear wheels to maximise traction.
The Volvo S80 V8 AWD further benefits from Volvo's TRACS anti-spin system. TRACS prevents wheel spin by transferring power across the axle if it detects a wheel is losing grip on one side.
Other S80 models use front wheel drive, which offers predictable and safe handling, plus better traction, than rear-wheel drive.
See also:
Power windows
Driver's door control panel 1 - Switch for disengaging rear door power window buttons 2 - Rear door window controls 3 - Front door window controls. WARNING Always remove the ignitio ...
Hoisting the vehicle
If a garage jack is used to lift the vehicle, the two jack attachments points should be used. They are specially reinforced to bear the weight of the vehicle. A garage jack can also be placed u ...
Performance
The C70 doesn't compete with the BMW M3s and Chevrolet Corvettes of the convertible world. It's more subdued than that, even when you get the top-of-the-line engine and option package like we test ...