Environment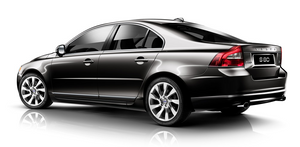 Good environmental protection is one of Volvo's cornerstones. All of the engines available in the all-new Volvo S80 are outstandingly economical, given their performance.
The manual diesel engine models have official combined fuel consumption figures of 57.7mpg (DRIVe), 49.6mpg (2.0D), 47.9mpg (2.4D) and 45.6mpg (D5), outstanding figures for a large luxury saloon with 124mph (2.0D), 130mph (2.4D) and 143mph (D5) performance. Even the high-performance V8 achieves a combined figure of 23.7 mpg - yet it has a top speed of 155mph and can accelerate from 0-60 mph in 6.0 seconds.
The diesel engines have a particulate filter that reduces exhaust particulates by 95 percent, and meet EU2005 emissions by a comfortable margin.
The new DRIVe diesel model is further proof of Volvo's commitment to reducing vehicle emissions. The S80 DRIVe delivers the comfort, space and luxury of a large saloon with the fuel consumption and emissions of a small car. It is capable of returning 57.7mpg (combined) and 129g/km CO2 - meaning it also falls underneath the 160g/km CO2 emissions threshold for new Writing Down Allowances on company cars that was introduced in April 2009.
The V8 engine was the world's first to comply with Euro5 and ULEV II emission control standards.
Healthier interior
Up to 16 million people in the UK suffer with some form of allergy - naturally this affects drivers too, whether as a private motorist or a company car driver.
Yet, while most of us are aware of vehicle emissions and air quality issues, how many drivers know that the air inside their cars may also be harmful? Or that the metals, textiles and leathers used in car interiors can emit volatile substances, which activate allergies and skin conditions?
Many motorists don't realise their car could be increasing their risks of asthma, eczema, headaches, eye irritation or even a heart attack. In recent years, the number of people suffering from allergies and other forms of hypersensitivity has been growing rapidly.
Volvo's 'Clean inside and out' programme to create emissions-free cars is a healthy solution to the problem.
The interior of the Volvo S80 complies with a strict standard called Oeko-Tex, which sets maximum levels for dangerous substances contained in textiles and trim materials. All the leather upholstery and the trim meets Oeko-Tex standards. The components that most frequently come into contact with the skin - the door handles, ignition key and safety belt locks - are also compliant with Oeko-Tex and allergen-free.
Every Volvo S80 benefits from Volvo's Air Quality System (AQS). This constantly monitors the cabin environment to minimise odours and pollutants entering from the outside. It ensures that the air inside the car is always cleaner than that outside. The air-conditioning system also incorporates a cabin air filter that prevents dust, pollen and exhaust gas particles entering the car.
The Volvo S80 goes one step further by offering an optional Clean Zone Interior Package (CZIP) that provides clean cabin air to standards approved by the Swedish Asthma and Allergy Association. Volvo's new Clean Zone Interior Package (CZIP) features an automatic air purging system. When the car is unlocked by the remote control, the passenger compartment is automatically ventilated for about one minute if the outside air temperature is above 10 degrees Celsius. This process expels stale air and removes potential airborne allergens from the driving environment.
See also:
Summary
The camera is activated when the gear selector is moved to R (this can be changed in the MY CAR menu) and the image is shown on the center console display. When backing up, two solid lines are ...
Parking brake
1 Parking brake pedal 2 Handle for releasing the parking brake The parking brake pedal is located under the dashboard, to the left of the brake pedal. NOTE The indicator light will light up eve ...
Call volume
Call volume can be only be adjusted during a call. Use the buttons in the steering wheel keypad or the infotainment system's VOL control. ...