Driving dynamics: steering, brakes and transmission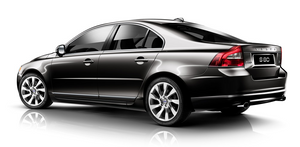 The five-cylinder petrol and diesel engines (2.5T, 2.4D and D5) have a six-speed manual gearbox which can be upgraded to the six-speed Geartronic transmission which is standard on the V8 engine. Volvo's Geartronic automatically adjusts its shift points to reflect the driver's style and also offers a manual, sequential-shift facility where the driver is able to choose gears individually by tipping the lever forwards to change up and backwards to change down. The four cylinder DRIVe engine comes with a five-speed manual gearbox.
Steering is by direct rack and pinion steering, and power assistance is standard. Speed-dependent power steering is available (and fitted as standard on V8 models). It provides extra power assistance at low speeds, for instance to make parking easier. The power assistance gradually declines as road speed increases, disappearing entirely at high cruising speeds.
To give all drivers their own optimum road feel, the level of steering servo assistance can now be adjusted via the car's information and set-up system. Power steering assistance can be set at one of three levels.
The DSTC (Dynamic Stability and Traction Control) system (standard on all Volvos) increases driving safety on twisty roads and in slippery conditions by using sensors to detect if one of the driven wheels shows any sign of losing traction and cutting the power to it at lightning speed so it can quickly regain grip. And if the car shows any tendency to skid, the system automatically brakes the relevant wheels to help maintain smooth control.
Braking is by four big disc brakes. Front brakes are ventilated, for improved cooling, and the latest-generation ABS brakes are standard. An electric parking brake is standard, which automatically releases as the car moves off.
All S80 models have Volvo's latest advanced braking system with new functions, including:
FBS (Fading Brake Support) - uses hydraulics to gradually build up braking pressure during constant braking to help reduce the risk of wear and retain pedal feel.
HBA (Hydraulic Brake Assist) updates Volvo's EBD (Electronic Brake Distribution) and EBA (Emergency Brake Assist) by using hydraulics to increase braking pressure when the driver brakes hard.
RAB (Ready Alert Brakes) recognises when the accelerator is released quickly or if the adaptive cruise control registers an obstacle in front of the car and places the brake pads against the brake discs even before the driver hits the brake pedal.
OHB (Optimised Hydraulic Brakes) reinforces the braking capacity in conjunction with hard braking to compensate for low vacuum pressure in the brake servo.
Volvo's research shows that many rear-end accidents happen because the driver is distracted or fails to react in time, which is why Volvo has introduced a (optional) new ACC (adaptive Cruise Control) with Distance Alert and Collision Warning with Auto Brake technology to help avoid such incidents, or at least minimise their effects.
The system uses a radar system to continuously monitor the area in front of the car so that if it approaches another moving car and the driver does not react it triggers an audible signal and a red warning light flashes on the windscreen.
See also:
Confirmation when locking/unlocking the vehicle
Settings can be made in the menu system for audible and visual confirmation when the vehicle has been locked or unlocked. With these functions activated, the following will occur when the vehi ...
Advanced settings
Angle If the DVD supports this function, it is possible to select a camera angle for a certain scene. This can be done in DVD mode under DVD root menu Advanced settings Angle. DivX Vid ...
The alarm system
The alarm is automatically armed whenever the vehicle is locked with the remote key or optional Personal Car Communicator. When armed, the alarm continuously monitors a number of points on the vehi ...