Design concept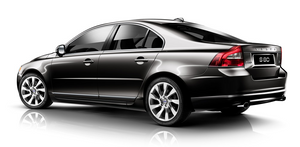 The Volvo S80 is a car that expresses a more dynamic evolution of Volvo's exterior design language. It's more sweeping, more elegant, tighter surfaced, and has a leaner and more agile look.
"The Volvo S80 should express elegance, alertness and smooth movement," says Peter Horbury, Design Director of Volvo Cars. "We aimed to achieve this with more rounded shapes, higher haunches and more sweeping lines."
The tapered shape with the gently rounded front, sloping glass, almost invisible transfer from rear window to boot panel and the abruptly vertical tail, all create a sensation of speed. This has been further emphasised by the parallel profiles on the bonnet and the sweeping roofline. The elegant flowing lines are also aided by the slimmer A- and C-posts. The narrower A-posts also have a primary safety benefit, reducing the visibility 'dead zone' in front of the driver. The entire side-glass panel is also framed by a chromed trim moulding, to give extra elegance.
"The S80 needs to be instantly recognisable as a Volvo," says Peter Horbury. "That is why we have emphasised many of those elements that help create the special Volvo character, such as the suggestion of strength and protection from the bodywork and the traditional Volvo front grille."
Like all the latest, modern Volvo designs, the Volvo S80 features pronounced curvature at the front corners to create a more compact and dynamic impression as well as reducing the risk of injuries to pedestrians. At the front, the new Volvo S80 features a new grille with the larger iron mark badge, which is part of the more extrovert DNA as seen on the new XC60 crossover. There is also new chrome detailing on the air intakes, lower part of the doors and under the tail lamps.
The shaped tail lamps echo the design of the other cars in today's Volvo range, but their profile has been refined to create a lower profile that follows the S80's broad, protective shoulder line. Those wide, curved shoulders gives real solidity to the body, and reinforce the image of the car having a robust safety cage, for excellent protection. LED lights at the top of the lamp units make it easy to identify the curved rear lights of the all-new Volvo S80 from a long way behind, especially in the dark.
See also:
Air conditioning
The vehicle is equipped with Electronic Climate Control (ECC). The climate control system cools, heats or dehumidifies the air in the passenger compartment. NOTE Х The air conditioning can be ...
Interior
The standard upholstery in the five-occupant interior has a slightly coarse woven feel said to be inspired by sportswear. Leather upholstery is available. Volvo says storage space is improved both ...
Premium Sound Multimedia
Х 7" color TFT display Х Voice control Х Thumb wheel on the steering wheel keypad Х AM/FM/HD radio Х Sirius satellite radio Х CD/DVD (mp3 and wma file formats) Х AUX and USB sockets Х Blue ...