Audio volume and automatic volume control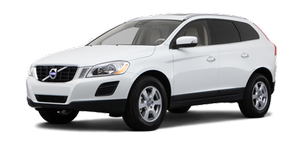 The infotainment system compensates for disrupting noises in the passenger compartment by increasing the volume according to the speed of the vehicle. The level of sound compensation can be set at low, medium, high or off. Select the level under Audio settings

Volume compensation.
See also:
RADIO menus
Main AM menu AM menu Show presets Scan Audio settings1 Sound stage Equalizer Volume compensation Reset all audio settings Main FM1/FM2 menu FM menu Show radio text Show pre ...
Gauges
Gauges in the instrument panel 1 Speedometer. 2 Fuel gauge. Please note that the fuel level indicator in the gauge moves from right to left as the amount of fuel in the tank decreases. The a ...
CD player/changer
Playing a CD CD player If a CD is in the slot and the audio system is in CD mode when it is switched on, the CD will be played automatically. Otherwise, to play a CD: 1. Insert a CD into the ...