2011 Volvo C30 Review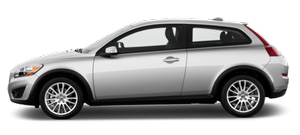 I really enjoyed the 2011 Volvo C30. It's fun to drive, has an excellent interior and it looks great after its recent redesign.
Now, if you're the sort of person who has to have a reason for everything Ч if you never buy a can of soda because you can get more for less in a two-liter bottle, for example Ч the Volvo C30 isn't for you: It's not utilitarian, it's not super-fast and it sure isn't cheap.
Yet I'm glad to see cars like the C30 being built; after all, if automakers can afford to make them, things can't be that bad, can they?
See also:
Driving distance on current fuel reserve
This function shows the approximate distance that can be driven on the fuel remaining in the tank. The calculation is based on average fuel consumption during the last 20 miles (30 km) of driv ...
Audio system overview
1 CD player 2 VOLUME Ц turn to adjust 3 POWER Ц On/Off 4 AM/FM Ц for switching between FM1, FM2 and AM 5 Display 6 ENTER Ц select in the menu or activate a selection 7 Not in use 8 MY KEY Ц p ...
Automatic Locking Retractor/Emergency Locking Retractor (ALR/ELR)
To make child seat installation easier, each seat belt (except for the driver's belt) is equipped with a locking mechanism to help keep the seat belt taut. When attaching the seat belt to a child ...