2011 Volvo C30 Review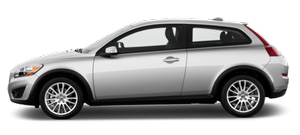 I really enjoyed the 2011 Volvo C30. It's fun to drive, has an excellent interior and it looks great after its recent redesign.
Now, if you're the sort of person who has to have a reason for everything — if you never buy a can of soda because you can get more for less in a two-liter bottle, for example — the Volvo C30 isn't for you: It's not utilitarian, it's not super-fast and it sure isn't cheap.
Yet I'm glad to see cars like the C30 being built; after all, if automakers can afford to make them, things can't be that bad, can they?
See also:
Interior
The standard upholstery in the five-occupant interior has a slightly coarse woven feel said to be inspired by sportswear. Leather upholstery is available. Volvo says storage space is improved both ...
Checking tire pressure
Cold tires Inflation pressure should be checked when the tires are cold. The tires are considered to be cold when they have the same temperature as the surrounding (ambient) air. This tempera ...
Disabling the passenger's side front airbag
Occupant Weight Sensor (OWS) indicator light Volvo recommends that ALL occupants (adults and children) shorter than 4 feet 7 inches (140 cm) be seated in the back seat of any vehicle with a front ...