2011 Volvo C30 Review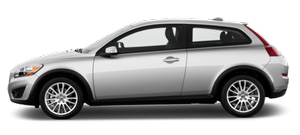 I really enjoyed the 2011 Volvo C30. It's fun to drive, has an excellent interior and it looks great after its recent redesign.
Now, if you're the sort of person who has to have a reason for everything — if you never buy a can of soda because you can get more for less in a two-liter bottle, for example — the Volvo C30 isn't for you: It's not utilitarian, it's not super-fast and it sure isn't cheap.
Yet I'm glad to see cars like the C30 being built; after all, if automakers can afford to make them, things can't be that bad, can they?
See also:
Using the system's menus
Selections in the RSE menus are made using the remote control. See page 251 for more information about the RSE menus. ...
Jump starting
Connecting the jumper cables Follow these instructions to jump start your vehicle's dead battery or to jump start another vehicle's dead battery using your vehicle. If the 12-volt auxiliary b ...
Ignition mode functions
The various ignition modes are accessed with the remote key in the ignition slot. ...