C30 in the Market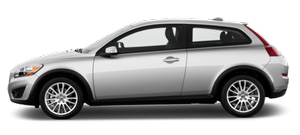 I enjoyed my time in the C30, and the more I drove it the more I liked it. The good visibility and decent power (when using the manual shift feature) were the highlights. The downsides are its limited practicality, the automatic transmission and the price. (Our test model topped out at nearly $33,000.)
Overall, the C30 is livable but not practical. It's sporty, but not a high-performance sports car. For less money, you can get cars that are both faster and more practical, such as the Mazdaspeed3 or Subaru Impreza WRX. But not every car purchase is the result of a rational calculation of performance statistics and/or seat count. Sometimes you just want a car that's comfortable, performs reasonably well and looks good. In that competition, the C30 does very well. Just make sure you get the manual transmission.
See also:
Trailer Stability Assist (TSA)
Trailer Stability Assist is a system designed to help stabilize a vehicle that is towing a trailer when the vehicle and trailer have begun to sway and is part of the Dynamic Stability and Traction ...
Unlocking/locking
Unlocking 1. Insert the remote key into the ignition slot as far as possible. 2. Press the START/STOP ENGINE button. > A sound will be audible when the lock releases. Vehicles with keyless driv ...
Unleaded fuel
Each Volvo has a three-way catalytic converter and must use only unleaded gasoline. U.S. and Canadian regulations require that pumps delivering unleaded gasoline be labeled "UNLEADED". ...