Station search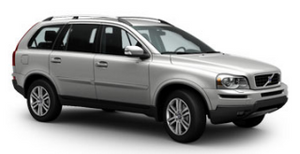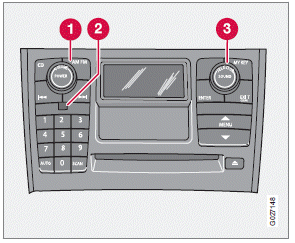 1. Choose radio mode AM/FM1/FM2 using the SELECTOR control (3) or the AM/FM button (1).
2. Press briefly on

to search for the next strong station. The radio will search for the next audible station and then stop.
3. Press one of the buttons again to start a new search.
Manually search for a known frequency
1. Press and hold the

button (or the corresponding buttons on the steering wheel keypad). MAN will be shown in the display. The radio will slowly scroll in the desired direction and then increase speed after a few seconds.
2. Release the button when the desired frequency is displayed.
3. If you need to adjust the frequency, press briefly on

.
The manual search function is available for five seconds after you last pressed the button.
See also:
Location
Location ...
Disconnecting the cell phone
The cell phone is automatically disconnected from the infotainment system if it is moved out of range. The cell phone can be manually disconnected from the hands-free system by pressing and h ...
BRAKE – Brake failure warning light
If the light comes on while driving or braking, stop immediately, open the hood and check the brake fluid level in the reservoir. Canadian models are equipped with this warning light. ...