Active chassis (Four C)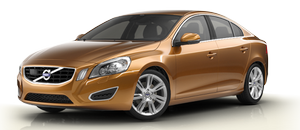 Active chassis, Four-C (Continuously Controlled Chassis Concept), regulates the characteristics of the shock absorbers so that the car's driving characteristics can be adjusted. There are three settings: Comfort, Sport and Advanced.
Comfort
Comfort mode offers a somewhat softer ride and the transmission shifts gears at lower rpm. This mode is particularly suitable for long-distance highway driving. The indicator light in the button will be on when this mode is selected.
Sport
In this mode, the vehicle's body sway is reduced during cornering and steering response is more immediate. The transmission shifts up at higher rpm for sportier driving. The indicator light in the button will be on to indicate that Sport mode has been selected.
Advanced
In this mode, body sway in curves is minimal and steering response is very direct. Gear shifting is done at high rpm in each gear for dynamic and active driving.
See also:
Guiding lines
The lines on the screen are projected as if they were a path on the ground behind the vehicle and are affected by the way in which the steering wheel is turned. This enables the driver to se ...
Activating/deactivating
console activates the hands-free system. The symbol in the display indicates that the hands-free system is active. A long press on the TEL button deactivates the hands-free system and disconnects ...
Temperature control
The temperatures on the driver and passenger sides can be set separately. When the vehicle is started, the most recent setting is resumed. NOTE Heating or cooling cannot be speeded up by se ...