C30 Changes and Models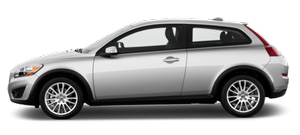 Sharp-eyed folks will notice that the C30 has been redesigned for 2011. Changes include a new hood, front fenders, headlights and grille. (Check out the changes for yourself here.) The rest of the car looks pretty much the same, and I have to admit, I've always been a fan of the car's design. The C30 always looks fresh to me.
There are two trim levels of the Volvo C30: T5 and R-Design. The T5 is the "base" model, and the R-Design is the sportier version. It has a sport chassis that Volvo says lowers the car's center of gravity, plus it gets a stiffer suspension and a quicker steering ratio. It also includes 18-inch wheels, as opposed to the stock 17-inchers. Both the R-Design and T5 get the same engine and either a five-speed automatic or a six-speed manual transmission.
The T5 and R-Design normally look different from the outside, as R-Design models add a spoiler, some body-colored trim pieces, 18-inch wheels, and a bunch of R-Design-branded elements on the inside. I say they "normally" look different because you can buy a T5 with an R-Design package that gives you all the R-Design model's looks, but skips the stiffer suspension. Our test model had this appearance package.
Normally I don't like go-fast appearance pieces, but I'm a big fan of this package. I like how the R-Design model looks, but I'm pretty sure I wouldn't want the stiffer R-Design chassis if I intended to drive the C30 every day around Chicago. This lets me have it both ways.
See also:
Drive (D)
D is the normal driving position. The car automatically shifts between the various forward gears, based on the level of acceleration and speed. The car must be at a standstill when shifting fr ...
Compliance
FCC/IC common sentence This device complies with Part 15 of FCC Rules and RSS-Gen of IC Rules. Operation is subject to the following two conditions: (1) this device may not cause interference, an ...
2008 Volvo C30 Review
The once utilitarian hatchback has become the new cool car (again), with automakers flooding the market with small, uniquely styled models. Volvo's new four-seat C30 joins the Mini Cooper — the ca ...