Living With the C30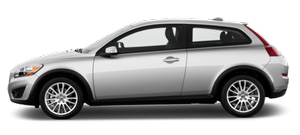 You'd be forgiven for thinking "hatchback = practical," but that's not quite the case with the C30. Sure, it's more practical than a two-seat roadster, but this isn't a family car — unless everyone in your family is smaller than 5-foot-2, packs light and enjoys snug accommodations. I'm about 6-foot-1, and there was no way any adult I know could have ridden behind me.
That's not to say, though, that I was cramped for space while driving the C30. I took it on a couple of three-hour road trips and emerged from both feeling pretty fresh. Volvo provides comfortable seats in the C30 and puts padding in the right places — like where your elbows are.
The cargo area behind the rear seats is small. I could carry a week's worth of groceries pretty easily, but if I had to buy food for more than one person I'm pretty sure I'd have to fold the seats flat.
Overall interior quality is extremely good. I thought the materials used were very nice, and I was a huge fan of how simple and clean everything appeared in the C30. There were a few more buttons than I like in parts of the center console, but overall it was very easy to live with.
All in all, the C30 is a nice place to be if you're just driving yourself and/or one other person, but carrying more than two would be a challenge. It's just not the vehicle for family road trips.
See also:
Vehicle Overview
Volvo's flagship sedan was introduced for the 1999 model year and got a mildly freshened appearance for 2004. The front fascia was reworked, and the grille surround was re-profiled for a gentler t ...
Erasing warning messages
When a low tire pressure warning message has been displayed, and the tire pressure warning light has come on: 1. Use a tire pressure gauge to check the inflation pressure of all four tires. 2. Re- ...
Troubleshooting
If Windscreen Sensors blocked appears in the information display, this indicates that the City Safety™ laser sensor is obstructed in some way and cannot detect vehicles ahead of you, which mea ...