Fuel requirements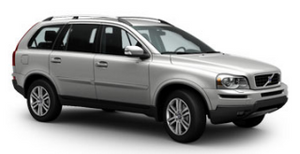 Octane rating
Minimum octane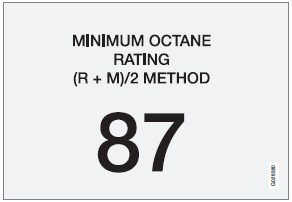 Typical pump octane label
Volvo recommends premium for best performance, but using 87 octane1 or above will not affect engine reliability.
Volvo engines are designed to achieve rated horsepower, torque, and fuel economy performance using premium 91 octane fuel.
Demanding driving
In demanding driving conditions, such as operating the vehicle in hot weather, towing a trailer, or driving for extended periods at higher altitudes than normal, it may be advisable to switch to higher octane fuel (91 or higher) or to change gasoline brands to fully utilize your engine's capacity, and for the smoothest possible operation.
NOTE
When switching to higher octane fuel or changing gasoline brands, it may be necessary to fill the tank more than once before a difference in engine operation is noticeable.
Fuel Formulat
Do not use gasoline that contains lead as a knock inhibitor, and do not use lead additives.
Besides damaging the exhaust emission control systems on your vehicle, lead has been strongly linked to certain forms of cancer.
Many fuels contain benzene as a solvent.
Unburned benzene has been strongly linked to certain forms of cancer. If you live in an area where you must fill your own gas tank, take precautions. These may include:
Х standing upwind away from the filler nozzle while refueling
Х refueling only at gas stations with vapor recovery systems that fully seal the mouth of the filler neck during refueling
Х wearing neoprene gloves while handling a fuel filler nozzle.
Use of Additives
With the exception of gas line antifreeze during winter months, do not add solvents, thickeners, or other store-bought additives to your vehicle's fuel, cooling, or lubricating systems.
Overuse may damage your engine, and some of these additives contain organically volatile chemicals. Do not needlessly expose yourself to these chemicals.
WARNING
Carbon monoxide is a poisonous, colorless, and odorless gas. It is present in all exhaust gases. If you ever smell exhaust fumes inside the vehicle, make sure the passenger compartment is ventilated, and immediately return the vehicle to a trained and qualified Volvo service technician for correction.
WARNING
Driving with the tailgate open: Driving with the tailgate open could lead to poisonous exhaust gases entering the passenger compartment.
Х If the tailgate must be kept open for any reason, proceed as follows:
Х Close the windows
Х Set the ventilation system control to air flow to floor, windshield and side windows and blower control to its highest setting.
Gasoline containing alcohol and ethers, "Oxygenated fuels"
Some fuel suppliers sell gasoline containing "oxygenates" which are usually alcohols or ethers. In some areas, state or local laws require that the service pump be marked indicating use of alcohols or ethers. However, there are areas in which the pumps are unmarked. If you are not sure whether there is alcohol or ethers in the gasoline you buy, check with the service station operator. To meet seasonal air quality standards, some areas require the use of "oxygenated" fuel.
Volvo allows the use of the following "oxygenated" fuels; however, the octane ratings listed on page 135 must still be met.
Alcohol Ц Ethanol
Fuels containing up to 10% ethanol by volume may be used. Ethanol may also be referred to as Ethyl alcohol, or "Gasohol".
Ethers Ц MTBE: Fuels containing up to 15% MTBE may be used.
Methanol
Do not use gasolines containing methanol (methyl alcohol, wood alcohol). This practice can result in vehicle performance deterioration and can damage critical parts in the fuel system.
Such damage may not be covered under the New Vehicle Limited Warranty.
Weight distribution affects handling
At the specified curb weight your vehicle has a tendency to understeer, which means that the steering wheel has to be turned more than might seem appropriate for the curvature of a bend.
This ensures good stability and reduces the risk of rear wheel skid. Remember that these properties can alter with the vehicle load.
The heavier the load in the cargo area, the less the tendency to understeer.
Handling, roadholding
Vehicle load, tire design and inflation pressure all affect vehicle handling. Therefore, check that the tires are inflated to the recommended pressure according to the vehicle load. See "Tire pressure" section.
Loads should be distributed so that capacity weight or maximum permissible axle loads are not exceeded.
Conserving electrical current
Keep the following in mind to help minimize battery drain:
Х When the engine is not running, avoid turning the ignition key to position II. Many electrical systems (the audio system, the optional infotainment/ navigation systems, power windows, etc) will function with the ignition key in position I. This position reduces drain on the battery.
Х Please keep in mind that using systems, accessories, etc that consume a great deal of current when the engine is not running could result in the battery being completely drained. Driving or having the engine running for approximately 15 minutes will help keep the battery charged.
NOTE
A warning message will be displayed in the text window in the instrument panel when the battery charge is low.
See also:
Listening to satellite radio
The Sirius satellite system consists of a number of high elevation satellites in geosynchronous orbit. NOTE Х The digital signals from the Sirius satellites are line-of-sight, which means that p ...
Rear window and door mirror defrosters
Use the defroster to quickly remove fog and ice from the rear window and the door mirrors. Press the button once to start simultaneous rear window and door mirror defrosting. The light in the b ...
Steering, brakes and transmission
The Volvo XC90 is as easy, responsive and rewarding to drive as a regular Volvo saloon or estate model. Its torsionally rigid body, transverse engines and All Wheel Drive combine to create almost ...