Getting Around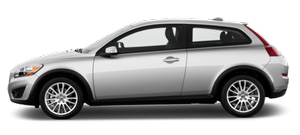 The C30 is a fun car to drive. It has a 227-horsepower, turbocharged five-cylinder engine that makes 236 pounds-feet of torque, which is a lot of power for such a small car. It's estimated to get 21 mpg in the city and 30 mpg on the highway, and it used premium fuel during my test, though Volvo says regular fuel is recommended.
Our test model came with a five-speed automatic transmission, but I've driven a C30 with the available six-speed manual, and that's the model I strongly recommend if you want a sporty driving experience. It gives more immediate response when you want to get going. All automatic transmissions hesitate to a degree, but it's really noticeable in the C30. That's a shame, because you can tell the C30 has a good engine, and when it gets going it's a lot of fun, but the C30's automatic spoils the fun more than most. The transmission has a manual-shift mode, though, so you can shift using the console-mounted gearshift. Once I started doing that I enjoyed the car a lot more, but it's still not as good as a stick shift.
The C30 held the road well. It has a stiff suspension, so there's basically no body roll, and the car feels planted to the road. Volvo says it built the C30 so the wheels are at the corners of the car to provide better handling, and I think it pays off.
As you'd expect from a small car with a stiff suspension, you feel the bumps in the road. Our test model was a T5 with a standard chassis and optional 18-inch wheels. You can also get an R-Design model with standard 18-inch wheels and a stiffer sport suspension, but I'd take that version for a long test drive before buying it; the R-Design might be too stiff to live with in a place with rough roads. The standard suspension was jarring enough over the terrible streets in Chicago.
See also:
Symbols and messages in the display
...
Optimal sound reproduction
The audio system is pre-calibrated for optimal sound reproduction using digital signal processing. This calibration takes into account factors such as the speakers, amplifier, cabin acoustics, th ...
Operating DAC
Certain settings can be made from the menu system controlled from the center instrument panel. The current system status can be checked on the trip computer's display by using the buttons on ...