Overview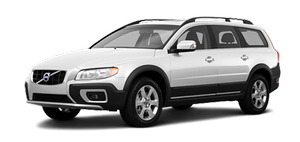 Volvo's boldly styled and intelligently configured Volvo XC70 AWD (all-wheel-drive) estate offers significantly improved levels of all-road-all-weather ability and an engaging driving experience combined with class-leading safety features, load-carrying versatility and refined passenger comfort.
It's eye-catching new sporty design, headlined by its raked windscreen and tailgate angles, blacked-out side pillars and C30-inspired taillights, are complemented by its tough and practical off-road styling.
Externally, the Volvo XC70 is higher than the V70 estate by 57mm and longer by 15mm and the car features hard-wearing scratchproof cladding which runs along the XC70's flanks and around the wheelarches. Other external features include chunkier redesigned bumpers and chromed front and rear scuff plates that shield the cars nose and tail during more arduous off-road work.
The Volvo XC70 is designed to be the perfect motoring accompaniment to an outdoor lifestyle. It offers great comfort and luxury for five adults yet has more than enough carrying space for items such as mountain bikes, skis and other sporting equipment.
This unique blend of abilities has made the XC70 range a great success since it was first introduced in 1996, pioneering a whole new type of car.
The latest version gets stronger performance, better handling, greater carrying capacity and versatility, more cabin space and comfort, and greater off-road ability. It is also the first Volvo XC70 available with a six-cylinder engine, boosting performance and mechanical refinement. The most elegant and upmarket XC70 yet, it has improved styling, cabin luxury and equipment.
For negotiating muddy forest tracks, wading rivers or powering up icy roads to ski chalets, the all-new Volvo XC70 gets electronically controlled All-Wheel Drive (AWD) as standard. Volvo's unique Active Four-C chassis, which automatically adjusts dampers to provide flatter and more secure behaviour, is standard on SE Sport versions, improving handling and stability both on and off-road. Hill Descent Control (HDC) - which limits speed down steep, slippery descents to 6mph going forward and 4mph in reverse and greatly improves low-speed control - further boosts off-road credentials.
'The all-new XC70 is our main off-road adventure vehicle,' says the president and CEO of Volvo Cars, Stephen Odell. 'More than the XC90, this is the vehicle chosen by those who genuinely lead an active and sporty lifestyle and really do go off-road regularly. It might be into a forest before unloading the mountain bikes, up a snowy road to the ski slope, or towing a boat down a steep and mossy slipway. No matter what the challenge, the XC70 is designed to perform.'
While most crossovers - like SUVs - are rarely used in the rough stuff, Volvo XC70 owners do exploit their cars' capabilities. 'The XC70 has primarily been created to get you to the end of the road. But it has also shown its ability to take you further if you want to and dare to,' says Odell.
'We had a winning concept from the very outset with the XC70 and we have refined it continuously. The all-new model maintains its tough, capable attitude while at the same time growing more comfortable. What is more, our design team has given the car a more elegant, more luxurious look.'
The latest version has fewer plastic protection panels, favouring body-colour panels instead. 'We have dialled up the premium feel,' says design director Steve Mattin. 'The chunky protection panels are used only where necessary. They include noticeable corner pads - we call the front ones "the boxing gloves" - that give the car a chunky and rugged feel. Other tough touches include lower side body cladding and front and rear alloy skid plates underneath the car. But the whole vehicle does look more elegant. We have visually turned up the sophisticated side of the XC70 while also mechanically improving its go-anywhere ability,' says Mattin.
The Volvo XC70 is available with the second-generation, turbocharged, five-cylinder, common-rail D5 engine. This ultra-clean, 185 PS, 400Nm engine, first shown on the S80, has a self-cleansing particulate filter as standard. Fuel economy is 37.7mpg in the combined cycle, which equates to 199g/km - a fine performance for a car with so much carrying capacity and on- and off-road potential.
The D5 diesel engine is available with a six-speed manual gearbox or six-speed Geartronic automatic, which also has a manual facility.
Safety innovations include a new design of child car seat with two-stage height-adjustable booster cushions that ensures optimal seatbelt geometry for maximum safety and protection but also offers good visibility out of the windows - making children (and parents) happier. 'When children complain less, parents drive more safely,' says Ahlborg. Small children would use the higher booster setting, which allows them to see out of the windows. Larger children, who still need a boost, now ride in unmatched safety.
Primary safety is also improved thanks to an innovative new Adaptive Cruise Control with Distance Alert and the new Collision Warning with Auto Brake, which warns drivers when they are getting dangerously close to the car in front and then primes the strong disc brakes for maximum braking force.
Other safety features include numerous electronically controlled braking systems such as HBA (Hydraulic Brake Assist), RAB (Ready Alert Brakes), FBS (Fading Brake Support) and OHB (Optimised Hydraulic Brakes). These all ensure that the all-new Volvo XC70 stops in the shortest possible distance. DSTC (Dynamic Stability and Traction Control) prevents skids and slides (especially useful on slippery surfaces). Improved SIPS side protection now uses superior twin-chamber airbags (the lower chambers inflate with much more pressure than the uppers, because the hips are tougher than the torso) and larger side curtain airbags. 'We're convinced this is absolutely the safest car in the premium estate class, along with the all-new Volvo V70,' says Ahlborg.
The Volvo XC70 is roomier and more comfortable than the outgoing model. Rear carrying capacity has grown by 55 litres and entry to the load area is improved by a new larger tailgate design that incorporates the tail-lights.
Comfort, a cornerstone of the outgoing XC70, has been improved, partly by all-new seats based on those of the luxury S80. Volvo is renowned for superb seats that allow for hours of pampered motoring. The new seats are further improved by the availability of internal ventilation, in which fans and perforated leather boost seating comfort on hot days. For more typically Swedish weather, the Volvo XC70 is also available with heated front and rear seats.
The Volvo XC70 comes in three luxury trim levels - SE, SE Sport and SE Lux.
See also:
Sub-channels
Example of an HD Radio station with sub-channels In many cases, a main HD Radio station (FM wavebands only) will also have sub-channels offering additional types of programming or music. In ...
Under the Hood
A light-pressure turbocharged 2.5-liter inline-five-cylinder engine delivers 208 horsepower to a five-speed-automatic transmission. Volvo's bi-turbo 2.9-liter inline-six-cylinder engine in the T6 ...
Autostart
This function makes it possible to start the vehicle without holding the key in the start position (position III) until the engine starts. Turn the key to position III and release it. The starte ...