Quality and equipment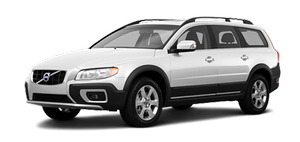 Scandinavia is renowned for its great interior design and Volvo is no exception. Volvos manage to combine high-quality functionality, easy-to-use design simplicity and premium materials. Volvos come much better equipped than rival German premium cars and they last, too. Independent studies invariably conclude that Volvos are among the longest-lived and most durable of all cars.
XC70 SE
The entry-level Volvo XC70, the SE, is extremely well equipped. Standard features include leather-faced upholstery, electrically adjustable driver's seat with pre-fixed memory, an eight-speaker High Performance audio system with 160-watt output and automatic rain-sensing wipers. Volvo's electronic climate control air conditioning is standard and so are cruise control, power-adjustable and heated door mirrors with Autofolding function, electric windows front and rear, reading lights front and rear, leather steering wheel and gear knob and the full suite of Volvo safety features, including dual-chamber SIPS side airbags and inflatable side curtains. All Volvo's state-of-the-art electronic traction and braking controls, such as DSTC (Dynamic Stability and Traction Control), ABS (Anti-lock Brakes) and HBA (Hydraulic Brake Assist) are standard, as is remote-control central locking. The SE uses a unique XC70 cross brushed aluminium dash and door trim for a sporty yet tough finish.
Further examples of the extremely high standard of equipment include load-adaptive front and rear lights, the 3D cargo load system for tethering all sorts of different objects in the cargo area and a 12V power output in the rear (perfect for camping or outdoor pursuits).
XC70 SE Sport
The SE Sport takes all the luxury fittings of the SE and enhances them with sportier styling and handling. Speed-dependent power steering - which firms up as speed builds - is standard and so is Volvo's innovative Active Four-C chassis system, which electronically firms up dampers to reduce body roll, pitch or yaw. A rear spoiler clearly signals that this is the sports model in the XC70 range.
Interior upgrades include ventilated leather-faced upholstery with in-seat ventilation and seat heaters. There are seven cooling and heating settings ensuring 'just right' levels of comfort. The passenger seat is electrically adjustable, while the sporty XC cross brushed aluminium trim is the same as that in the SE.
XC70 SE Lux
The SE Lux is the most luxurious model in the XC70 range. Standard features include modern wood trim (walnut wood trim is a no-cost option) and heated and powered leather-faced front seats. Active bending headlamps are standard with active Bending Lights, there's chrome window trim, a powered tailgate for easier opening and closing, and rear park assist for simple reverse parking. Load compensating suspension and seventeen-inch alloy wheels are standard.
Audio systems
The Volvo XC70 has been designed to offer a superb sound experience. The standard audio is Volvo's acclaimed 'High Performance' sound audio system featuring eight speakers and 160-watt output. The top-of-the-range Dynaudio Premium Sound audio system - optional (for L1000) on all models - is one of the very best in the automotive world, irrespective of price. It uses an Alpine digital 5x130-watt amplifier, Dolby Pro-Logic II Surround and 12 speakers from renowned Danish speaker manufacturer Dynaudio. It's a 5.1 channel system that provides a true stereo effect. Thanks to the digital amplifier, the system automatically adjusts both volume and tone to compensate for outside noise. The amplifier has a very high damping factor, thanks to the ICEPower technology from Danish hi-fi expert Bang & Olufsen. This system contributes to the powerful sound, which remains clear all the way down to the deepest bass notes.
The Dynaudio speakers are of exceptional quality. The front doors have well dimensioned three-way loudspeakers. The rear doors feature two-way loudspeakers with a tweeter and a mid/woofer. The tweeter diaphragm is made of textile (known as a silk dome tweeter), a Dynaudio speciality that helps create crystal-clear sound. Each loudspeaker has a passive crossover filter to provide a harmonious total sound experience with the best possible bandwidth and dynamics.
Specially developed centre loudspeakers in the instrument panel work together with the door loudspeakers to create natural, homogeneous music. It sounds more like a concert hall than a car interior.
A special set-up facility allows the sound to be optimised for the best possible audio experience. The profile can be set to optimise sound for the driver, for both front seat occupants or for the rear seat. 'A person driving alone in the car can set the audio profile with unashamed selfishness,' says project director Tomas Ahlborg. 'If the owner is riding in the back seat, it's just as easy to prioritise the audio experience there.'
The normal High Performance audio system, standard on the SE, SE Sport and SE Lux, also offers exceptional sound quality. It gets a single CD player, a 4x40 watt amplifier and eight speakers.
For even richer and deeper bass notes, both the Dynaudio Premium Sound and High Performance systems can be enhanced by a 12-litre, dual-chamber sub-woofer under the luggage floor, close to the rear seat backrest. This Alpine-developed sub-woofer includes two 6.5-inch bass elements and an integrated 2x130-watt amplifier. Designed to offer the best possible bass performance, it is a L180 option on all models.
All sound systems feature an extra input for connection to portable MP3 players, such as iPods, enabling them to be mated to the car's audio system.
Bluetooth compatibility plus improved satellite navigation
Bluetooth, the advanced wireless system, enables your mobile phone to be connected to the car's loudspeaker system. This allows for perfect sound and minimises the interference often experienced when a mobile is used while driving.
Volvo's RTI Navigation System - available as an option on all models - has a faster processor, which means alternative routes are plotted more quickly than before, and there is more detailed information, including local speed limits when a national border is crossed. A number of new countries have been added, mostly in Eastern Europe. This new sat-nav system features RDS-TMC (traffic message channel) which displays up-to-date information on traffic problems. The large colour screen display rises from the top of the dashboard, safely positioned in the driver's view. When not in use it retracts, helping to keep the car's interior design less cluttered and more Swedish minimalist.
Personal comfort settings
The XC70 driver can adjust the car's comfort functions to suit his or her personal needs. These settings are altered in the car's information system. The menu includes the seats, rear view mirrors, climate unit, audio unit, navigation system and, to a certain extent, the car's driving properties.
One of the selectable functions is automatic operation of the rear defroster. When this setting is chosen, the defroster is automatically activated when the outside temperature reaches 9 degrees C or below. Another example is the speed-dependent power steering - standard on the SE Sport - which can be set at one of three levels via the information system.
Rear seat DVD
The new Volvo XC70 can be fitted with an advanced RSE (rear seat entertainment) system. An integrated DVD player, eight-inch flat-screen monitors built into the front seat headrests, wireless headphones and remote control are all included. An extra socket means it is possible to connect an additional DVD player or video game. The two screens can then be used independently. Introduced in May 2008, a Digital TV option is also available to supplement the RSE system. This new option enables passengers to watch Freeview channels as well as providing a card slot that can be used for subscription services like SKY.
Extensive options list
The XC70 includes hundreds of options to allow owners to personalise their cars. For better value, some of these options are grouped in packs:
Winter pack: heated front seats, headlamp cleaning system and heated washer nozzles
Active Bending headlamps pack: active Bending headlamps, headlamp cleaning system, heated front seats and heated washer nozzles
Family pack: two, two-stage, integrated booster cushions, power child locks (rear doors only) and passenger airbag cut off switch.
Communications pack: RTI Navigation System with RDS-TMC, remote control, European DVD maps, PCC (Personal Car Communicator) with Heartbeat sensor and Keyless Drive and Bluetooth® handsfree system.
Driver Support pack: BLIS (Blind Spot Information System), ACC (Adaptive Cruise Control) with Distance Alert and Collision Warning with Auto Brake and LDW (Lane Departure Warning) and DAC (Driver Alert Control).
Security pack: PCC (Personal Car Communicator) with Heartbeat Sensor and Keyless Drive, 360o Laminated Windows including cargo area (front side windows are water repellent).
Warranty
The Volvo XC70 is backed by a three-year/60,000-mile warranty. There's a three-year, unlimited-mileage warranty on the paintwork and either 8 or 12 years against rust perforation. All Volvos have free RAC cover for one year, including breakdown assistance anywhere in Europe, 24 hours a day.
See also:
Checking and adding oil
Location of the filler cap and dipstick Volvo recommends Castrol oil products NOTE Before checking the oil: • The car should be parked on a level surface. • If the engine is warm, wait for at ...
Brake lights
The brake lights come on automatically when the brakes are applied. Adaptive brake lights The adaptive brake lights activate in the event of sudden braking or if the ABS system is activated. This ...
Quality and equipment
A passion for high quality lies at the heart of the Volvo brand. This is inherent not only in the build quality that reflects the ruggedness, durability and reliability for which Volvo is renowned ...