Driving dynamics: engine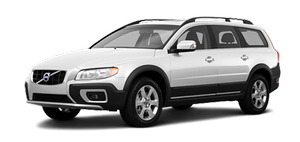 The second-generation, 2.4-litre, five-cylinder, diesel D5 is a cleaner and more advanced version of the engine fitted to the outgoing XC70. It gives superb performance (130mph) allied to fuel economy more typically found on smaller, less capable cars (37.7mpg on the combined cycle).
Volvo's second-generation, 2.4-litre, five-cylinder, common-rail diesel D5 engine is an advanced unit featuring double overhead camshafts and four valves per cylinder for optimised breathing. The D5 unit is substantially revised over the outgoing Volvo XC70's unit and has a new electronically controlled turbocharger, refined multi-throttle injection technology and a more powerful engine management system, among many other changes. It is one of the cleanest and most advanced diesel engines in the world. The improvements have resulted in an entirely new driving experience with considerably higher performance and improved drivability. At the same time, there has been a sharp reduction in emissions. The engine easily exceeds Euro 4 emissions requirements. Particulates are only 0.001g/km compared with the Euro 4 standard of 0.025. A particle filter requiring no servicing is fitted as standard.
The D5 produces 185 PS and a massive 400Nm of torque from 2000-2750rpm. Maximum speed is 130mph in manual form and 0-60mph takes only 8.8 seconds. Yet average fuel economy on the official combined cycle is 37.7mpg for the manual version.
See also:
2012 Volvo XC70 Review
The Volvo XC70 is the quintessential station wagon, the most "Volvo-like" Volvo on the road today. Having one parked in my driveway takes me back to my childhood — riding to and from ...
Blower function to reduce battery drain
The climate system's blower functions normally while the engine is running. However, when the engine is switched off (even if the ignition is switched to positions I or II), the blower control w ...
Cargo area
Located behind the upholstery on the left side of the cargo area Positions NOTE Please consult a Volvo retailer's Parts department for the most up-to-date specifications. ...