Driving dynamics: chassis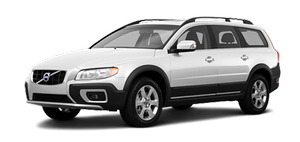 The Volvo XC70 is equally adept at powering down muddy slopes, towing a boat up a slippery ramp or cruising on the motorway. 'Here is a cross-country vehicle that is extremely capable off-road yet drives just like a car on the tarmac,' says Tomas Ahlborg, project director. 'No SUV can offer this balance of abilities. As with any Volvo, it is also predictable, stable and safe, no matter what the surface or weather.'
Greater torsional rigidity aids ride and handling
The most important single factor in good dynamics is a rigid body platform. If the platform twists and bends, then the handling will become unpredictable, the ride quality will deteriorate and the car will lose primary safety. Rigidity is also very important in punishing off-road conditions, when uneven roads can induce 'chassis twisting', which destabilises the vehicle.
The Volvo XC70 has all-new chassis architecture that offers a very high degree of structural integrity. Thanks to its careful, computer-aided design and the use of different grades of high-strength steel, the Volvo XC70 has 15 per cent greater torsional rigidity than the outgoing model, itself an immensely strong and stiff car.
The suspension has been set up to give a comfortable low- and high-speed ride, ensuring great agility and feedback from car to driver. The all-new steering system - speed-sensitive power steering is standard on the SE Sport version - and carefully honed, fully independent suspension help give what Tomas Ahlborg calls a 'high-class driving feel and superb control whatever the situation'.
The suspension uses coil springs all round. The front uses MacPherson struts while the rear has a multi-link arrangement. Anti-roll bars are fitted front and rear.
Specially designed for off-road
To improve driving performance on rough roads, or when off-road, the Volvo XC70 has excellent ground clearance. Its minimal overhangs mean it can also cope with very steep ascents or descents.
Helped by the generous ground clearance - it's 74mm higher than the Volvo V70 with two occupants on board - the XC70 has an effective clearance from the track beneath of 210mm. Wading depth is 300mm, so it can stride easily across shallow rivers or fords.
Although longer than the outgoing XC70, the all-new vehicle is still more compact than the premium estate norm. This contributes to its ability to clamber up or down steep slopes. With ramp angles of 19.2 degrees approach, 19.8 degrees break over and 24 degrees departure, the new XC70 betters its predecessor (16, 18 and 20 respectively) in all three areas.
Active Four-C chassis
The SE Sport versions of the XC70 get Volvo's innovative active Four-C chassis as standard. This is an advanced, self-adjusting chassis where electronic sensors continually monitor the car's behaviour and the dampers readjust in a fraction of a second. This technology reduces the car's tendency to squat, dip or roll under firm acceleration, hard braking or fast steering manoeuvres.
The advanced multiplex control systems update the suspension settings an almost unbelievable 500 times every second. The system is especially useful when the car's handling balance is naturally upset - for example, during fast take-off (with Four-C, the rear dampers are set to maximum stiffness to reduce squat and optimise front-end traction), during hard braking (the front dampers are stiffened to reduce nose dive) and when cornering (outside dampers are stiffened to reduce roll and improve road holding).
Dampers are also automatically stiffened as speed increases. During quick steering manoeuvres, the Volvo XC70 takes on an agility and composure that belie its size and carrying capacity. 'With an active chassis, the car's driving behaviour improves in all situations,' says project director Tomas Ahlborg. 'It is both safer and more entertaining to drive.'
Though dampers are adjusted automatically, drivers can also programme in their desired road behaviour. Three chassis settings, all at the touch of a button, alter the car's responses. Available settings are:
Comfort - which provides the most comfortable ride with calm, harmonious body movements
Sport - for more tightly controlled body movements and a firmer, 'hunkered down to the road' feel. Steering response is sharpened, body roll is reduced
Advanced - the maximum sports choice that noticeably firms up dampers and would be the desired setting for brisk drives on smooth, winding roads
In an emergency situation - when the driver needs maximum control - the ingenious Four-C system overrides the personal settings to deliver maximum stability and tyre grip. Equally, as speed builds, the dampers automatically become firmer to improve handling, response and safety.
The Active Four-C chassis is especially useful on uneven or gravel roads where the unpredictable nature of the surface may catch out unwary drivers.
Hill Descent Control for safer downhill driving
Slippery downhill tracks are among the most dangerous of all off-road situations. The Volvo XC70's Hill Descent Control (HDC) allows drivers to descend slippery slopes with complete peace of mind. Speed is modulated irrespective of conditions. The electronic one-touch system, standard on automatic or manual gearboxes, utilises the ABS anti-lock brakes to control speed and maintain stability, ensuring a steady and safe 6mph throughout the descent. Touching the brake will slow the car but won't disengage the HDC. The HDC also works in reverse maintaining a steady 4mph, making it ideal for tricky manoeuvres such as launching a boat on a steep slipway.
'Some off-road cars have an extra-low gear for crawling or an extra-low range,' says Tomas Ahlborg. 'We believe that Hill Descent Control is a more sophisticated solution that better suits the XC70. Combined with our All-Wheel Drive system it gives great control at very low speeds, helped by the torque and throttle response of both the six-cylinder and turbocharged five-cylinder engines.'
DSTC (Dynamic Stability and Traction Control)
This is standard on all Volvo models. An electronic stability and traction system that stops skids and slides, it uses sensors to detect if any of the wheels is losing traction or grip. If so, power is cut to the relevant wheel. If the sensors detect early signs of a skid, the system automatically brakes the relevant wheel to reduce speed and regain control. It's an important primary safety aid, especially on the loose-surfaced tracks on which the XC70 may frequently be used.
See also:
Interior lighting, front
Light switches, front roof lighting 1 - Drivers side front reading light, on/off 2 - Passenger's side front reading light, on/off 3 - Overhead courtesy lighting. The lighting in the front pa ...
Cargo area
Positions NOTE Please consult a Volvo retailer's Parts department for the most up-to-date specifications. ...
Modifications
If you are considering modifying your vehicle in any way to accommodate a disability, for example by altering or adapting the driver's or front passenger's seat(s) and/or airbag systems, p ...