Overview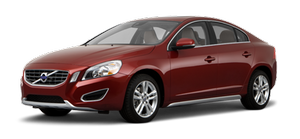 The V50 Sportswagon belongs to Volvo's versatile V-range, along with the Volvo V70, and is produced at Volvo's plant in Ghent, Belgium alongside the V70 estate and S40 and S60 saloons. In the UK, in its first full year on sale in 2005, 7547 V50s were sold, making it Volvo's best-selling model; globally it is the company's second best-selling model (after the XC90).
The Volvo V50 is a thoroughly modern Sportswagon. Stylish and dynamic with typically simple Scandinavian style, yet versatile and great value compared with many other premium brands, it appeals to customers who need a Sportswagon to enhance their active lives.
"The emphasis has been placed on attractive design and a sense of sportiness," says Volvo Cars' President and CEO Hans-Olov Olsson, "with a practical 'bonus' of extra luggage space."
While instantly recognisable as a member of the modern Volvo family, this Sportswagon asserts its own strong identity. Viewed from above, the Volvo V50 has a boat shape with a curved front tapering down to the rear, and this, coupled with its cab-forward proportions, helps to emphasise its sporting aspirations. While the stacked rear lamps and near-vertical tailgate are familiar, the car has a softer, more sculptured rear end than a more traditional estate, such as the Volvo V70. Subtle modifications to the grille and front fog lamps also help differentiate it from its saloon car sibling, the Volvo S40.
Inspired by classic Scandinavian design themes and high-tech electrical equipment, the interior has a layered construction that focuses attention on a unique, ultra-slim, free-floating centre stack. This houses the controls for the audio system and climate control, and includes a display for a menu system that allows the driver to personalise preferences for door locking/unlocking, and audio settings, etc.
The Volvo V50 is 46mm longer than the Volvo S40 saloon, with an overall length of 4522mm. At 1457mm in height and 1770mm wide (not including wing mirrors), sitting on a wheelbase of 2640mm, it offers a spacious cabin environment for up to five adults. With the rear seats in place, there's a generous 417 litres of cargo space and this can be extended to a maximum of 1307 litres by folding flat the split/fold rear seats. The front passenger seat back also folds forwards to allow extra-long loads to be carried.
For 2009 Model Year, the Volvo V50 benefited from a larger and more widely spaced exterior emblem on the boot lid making the Volvo brand easier to spot from a distance. The car experienced a few more changes in 2008 Model Year where it moved closer to the Volvo V70 estate, with a sportier new grille and headlamp layout and distinctive three-part front air intake and features Volvo's deep-set chrome-collared grille and larger Volvo badge. The Volvo V50's distinctive rear styling benefited from slimmer tail light units that are equipped with LED brake lights, enhancing the car's shoulders. A new boot handle, restyled bumper and a revised pair of exhaust pipes complete the look. Restyled lower door mouldings and side sills also underline the visual changes between old and new Sportswagon models.
Volvo designers and engineers also gave the cabin of the V50 a thorough revision to add more storage space and carrying versatility as well as boosting the choice of interior trims. Volvo's iconic 'floating' centre stack had revised controls and which was complemented by a multi-function centre tunnel storage area, a more compact handbrake design, and a revised armrest that's longer and further forward for greater driver comfort. It can also flip through 180 degrees to act as a useful table for rear passengers. As well as redesigned cupholders, there's now a much larger storage area under the armrest, while the lower sections of the front door inside panels have been redesigned to accommodate larger items. The auxiliary input for the audio system has been repositioned under the armrest and is now standard across the range, while a roll-top cover for the central storage area provides heightened security.
The Volvo V50 appeals to younger, professional people. Its most obvious rivals are other premium brand compact estates, such as the Audi A4 Avant and the BMW 3-series Touring. They are attracted by the Volvo V50's combination of style and design, practicality and, above all, premium brand quality.
See also:
Replacing the battery in the remote key
The batteries should be replaced if: The information symbol illuminates and Low battery in remote control. Please change batteries. is shown in the display and/or if the locks do not react af ...
Moving the vehicle
If the message Normal mode is displayed when Safety mode See manual is no longer displayed, the vehicle may be moved carefully from its present position, if for example, it is blocking traffic ...
Reduced alarm function
Turning off the accessory alarm sensors In certain situations it may be desirable to turn off the accessory inclination and movement alarm sensors if, for example, you drive your vehicle onto a ...