Suspension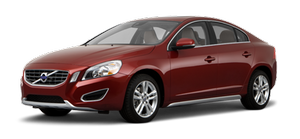 The advanced, independent suspension system employs spring struts at the front, the geometry of which has been carefully calculated to provide quick and precise steering response, enhancing the car's sports appeal. The rear suspension is a sophisticated multi-link system, which permits a small degree of passive rear wheel steering when cornering. This helps to maximise stability and control. Anti-roll bars also feature at both ends.
DSTC, EBD and EBA
The carefully honed mechanical set-up is supported by the DSTC (Dynamic Stability and Traction Control), which is standard on every model. Arrays of sensors monitor the car's behaviour and if it starts to skid, DSTC will automatically brake individual wheels to help the driver regain control. The traction control element also works to alleviate the problems of wheelspin, ensuring that the Volvo V50 delivers a safe, positive driving experience in all weather conditions.
Every Volvo V50 benefits from ABS brakes with EBD (Electronic Brake Distribution) and EBA (Emergency Brake Assist) which senses an emergency stop and automatically brings the car to a halt in as short a distance as possible.
Driving Dynamics: Steering, Brakes and Transmissions
The Volvo V50 Sportswagon has an electro-hydraulic power steering system that has been developed to optimise driver feedback and response. This helps the driver place the car accurately on the road and to assess the available grip.
Ventilated disc brakes are fitted at the front and rear. The disc size is adapted to engine power and wheel rim size, up to a maximum diameter of 16.5in (320mm). As you'd expect from Volvo, an anti-lock braking system is fitted as standard and this is joined by EBD (Electronic Brake Distribution), which constantly distributes braking power between the front and rear wheels to ensure maximum retardation regardless of the road conditions or how the car is laden.
Every Volvo V50 model is also equipped with EBA (Emergency Brake Assist). This system automatically senses when an emergency stop is required and adjusts the braking pressure so that the car comes to a halt in the shortest possible distance.
The normally-aspirated petrol engines, the 1.8D and 1.8F are mated to the latest generation of Volvo's five-speed manual gearbox, which has a triple synchromesh to provide faster, more positive changes.
The range-topping T5 uses a six-speed manual gearbox. The ratios have been carefully matched to the engine's characteristics so as to combine strong acceleration with a high top speed. The gearbox has a triple synchromesh and a reassuringly direct shift action.
The 2.0D offers six forward ratios, but this gearbox is not the same unit as that fitted to the T5. The ratios have been chosen to complement the diesel's 320Nm of torque and to provide effortless pull throughout the engine range. The V50 2.0D is also available with the new Volvo Powershift transmission which was introduced as an option in early 2008, this six-speed unit features twin wet clutches to provide the gear changing comfort of a fully-automatic transmission with the performance of a manual gearbox.
Operating as two parallel manual gearboxes, Powershift has twin wet clutches that work independently of one another. One clutch controls the odd gears (1, 3, 5 and reverse) while the other handles the even ratios (2, 4 and 6). The two clutches operate alternately with one engaging while the other disengages, like a slip clutch. This means that at the same time as the engine gets full power and maximum thrust in first gear, second gear is placed ready to be engaged. And when second gear has been engaged, third gear is readied, and so on. This gives a continuous flow of power without any disruption in power delivery or any torque loss. This results in extremely fast and smooth gear changes whilst maintaining acceleration allowing 0-60mph to be reached in 9.2 seconds and boasts a top speed of 127mph.
Apart from gear changing comfort and high performance, Powershift also contributes to delivering improved fuel efficiency. The Powershift Automatic offers an impressive combined fuel consumption of 47.1mpg and a CO2 figure of 159g/km in the Volvo V50.
Powershift gives the driver an automatic transmission that permits sequential gearchanges, just like with Volvo's Geartronic transmission. The difference is that with Powershift even manual gearchanges take place without any time or power losses. Also, unlike a conventional automatic transmission, Powershift does not need a torque converter, planetary gears or multiple wet clutches, there is also none of the added torque losses that these features bring.
The Geartronic system is available as an option on the D5 turbodiesel and T5. The Geartronic system is fully adaptive - it automatically adjusts its shift patterns according to an individual's driving style and can be shifted into 'manual' mode if required.
See also:
Seating
The C70 is a comfortable car if you're in one of the front seats. They have a bit of side bolstering — so you feel like you're sitting in the seats, not perched on top of them — but the bolstering ...
Driving Impressions
The gentle but capable XC90 is solid and refined and handles more like a taut European sedan. It reacts masterfully on twisting roads and functions with precise control. Expect a smooth and soli ...
Removal
Switch off the ignition, remove the remote key from the ignition slot and wait at least 5 minutes before disconnecting the battery so that all information in the vehicle's electrical system ca ...