Replacing batteries in the headphones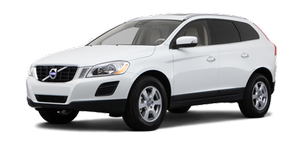 The headphones use two AAA batteries.
It is advisable to have extra batteries on hand during long trips.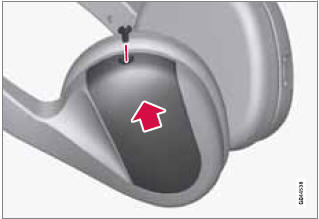 Battery cover and retaining screw
1. Unscrew the retaining screw and remove the battery cover.
2. Remove the old batteries and insert new ones in the directions indicated by the symbols in the battery holder.
3. Put the cover back in place and tighten the retaining screw.
See also:
2012 Volvo XC70 Review
The Volvo XC70 is the quintessential station wagon, the most "Volvo-like" Volvo on the road today. Having one parked in my driveway takes me back to my childhood — riding to and from ...
Security
Volvo is committed to protecting the car, its occupants and their possessions. The use of a hard-top rather than a soft-top convertible roof obviously improves security. Roof-up, the new Volvo C ...
Touching up paintwork
Paint code on the model plate Paint damage requires immediate attention to avoid rusting. Make it a habit to check the finish regularly, for instance washing the vehicle. Touch-up if necessary ...