Global sales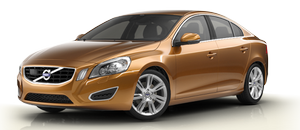 The first-generation Volvo S60 was launched in 2000. It soon became Volvo Cars' most popular model, enjoying worldwide acclaim and peak sales of 110,000 cars in 2002. In total, there are about one million S60s on roads the world over today.
The initial annual global target for the all-new Volvo S60 is 90,000 cars and the car's customer base is spread unusually uniformly throughout the world. Europe (including Russia), North America, and the rest of the world will each account for about one-third of total sales. The five largest single markets will be the UK, USA, China, Russia and Sweden. The all-new Volvo S60 will be built at the Volvo Cars factory in Ghent, Belgium and first cars will be delivered to customers in early summer 2010.
See also:
Putting ACC in standby mode
Before ACC can be used to regulate speed and/or the distance to a vehicle ahead, it must first be put in standby mode. To do so: Press . The symbol appears in the display and parentheses ( ...
Speed dial
Speed dial numbers can be added in phone mode in Phone menu Phone book Speed dial. To use speed dial to make a call in phone mode, press a button on the center console keypad followed by OK/MENU. ...
Location of taillight bulbs
Brake lights (LEDs) Brake light Backup light Turn signals Rear fog light (driver's side only) NOTE If an error message remains in the display after a faulty bulb has been replace ...