Returning the spare wheel to the storagecompartment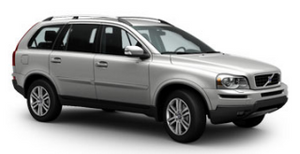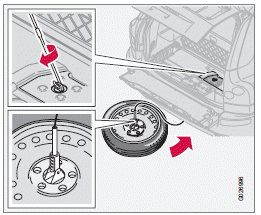 1. Use the crank (turn it counterclockwise) to lower the spare wheel's retaining cable.
2. Pass the toggle at the end of the cable through the center hole in the spare wheel.
Pivot the toggle 90 degrees so that when raised, the wheel will rest on the toggle.
3. Retract the retaining cable slightly by slowly turning the crank clockwise several times.
4. Position the wheel so that it is not obstructed by components in the exhaust system.
5. Continue to raise the wheel by turning the crank clockwise. Raise the wheel a little bit at a time and guide it around the rear axle until it is securely seated in the storage area.
6. When it is no longer possible to turn the crank any further, check that the spare wheel is securely in position in the storage compartment.
See also:
Activation
PAC is activated when the gear selector is moved to R if the system is selected in the MY CAR menu system or by pressing the CAM button in the center console. See page 133 for a description of t ...
Keyless drive
Vehicles equipped with the optional Personal Car Communicator have the keyless drive function, see page 63 for detailed information. ...
Remote key not functioning
If the remote key is not functioning properly, the alarm can be turned off and the vehicle can be started as follows: 1. Open the driver's door with the key blade (see page 61 for information o ...