Returning the spare wheel to the storagecompartment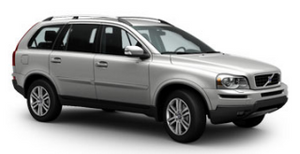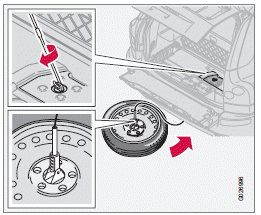 1. Use the crank (turn it counterclockwise) to lower the spare wheel's retaining cable.
2. Pass the toggle at the end of the cable through the center hole in the spare wheel.
Pivot the toggle 90 degrees so that when raised, the wheel will rest on the toggle.
3. Retract the retaining cable slightly by slowly turning the crank clockwise several times.
4. Position the wheel so that it is not obstructed by components in the exhaust system.
5. Continue to raise the wheel by turning the crank clockwise. Raise the wheel a little bit at a time and guide it around the rear axle until it is securely seated in the storage area.
6. When it is no longer possible to turn the crank any further, check that the spare wheel is securely in position in the storage compartment.
See also:
Windshield wiper blades
To change a windshield wiper blade: 1. Fold the wiper arm out from the windshield and hold the wiper blade. 2. Press in the grooved catches and pull out the wiper blade. 3. Insert a new wiper ...
Front seats
1 Massage 2 Lumbar support Massage Massage control Firm massage Gentle massage Each front seat has a massage function in its backrest. The massage action is done with air cushions, ...
Auxiliary sound level
If the external sound source's volume is too high, the quality of the sound may be impaired. This can be prevented by adjusting the external sound source's input volume. 1. While playing the ...