Interior lighting, front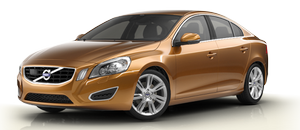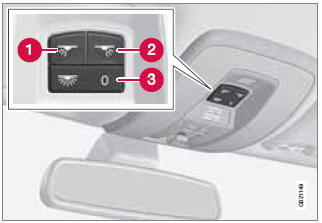 Light switches, front roof lighting
1 - Drivers side front reading light, on/off
2 - Passenger's side front reading light, on/off
3 - Overhead courtesy lighting.
The lighting in the front part of the passenger compartment is controlled with the buttons (1) and (2) in the roof console.
Switch (3) has three positions for all passenger compartment lighting:
Off: right side depressed, automatic lighting off.
Neutral position: automatic lighting is on.
On – left side depressed, passenger compartment lighting on.
See also:
Park position (P)
Select the P position when starting or parking. Shiftlock When P has been selected, the transmission is mechanically blocked in this position. The brake pedal must be depressed and the ignition mu ...
Safety
Volvo is a renowned world leader in automotive safety, and the all-new Volvo S80 features a new generation of preventive and protective safety systems. The best way to protect the car occupants is ...
Methanol
Do not use gasolines containing methanol (methyl alcohol, wood alcohol). This practice can result in vehicle performance deterioration and can damage critical parts in the fuel system. Such damage ...