Tire wear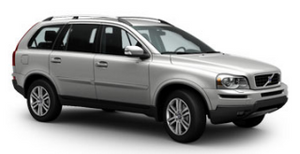 Tire rotation
Your vehicle has no required tire rotation. Tire wear is affected by a number of factors such as tire inflation, ambient temperature, driving style, etc.
NOTE
Х If the tires are rotated, they should only be moved from front to rear or vice versa. They should never be rotated left to right/right to left.
Х Ideally, tire rotation should be done the first time after approximately 3,000 miles (5,000 km) and thereafter at 6,000-mile (10,000-km) intervals. Some customers find that tire rotation may help to get extra mileage from tire life.
Х Tire rotation should only be performed if front/rear tire wear is fairly even and tread height is above 1/16" (1.6 mm).
Your Volvo retailer can also provide guidance based on your particular driving circumstances.
Tread wear indicator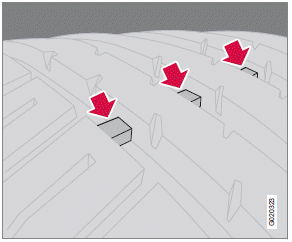 The tires have wear indicator strips running across or parallel to the tread. The letters TWI are printed on the side of the tire. When approximately 1/16" (1.6 mm) is left on the tread, these strips become visible and indicate that the tire should be replaced. Tires with less than 1/16" (1.6 mm) tread offer very poor traction.
When replacing worn tires, it is recommended that the tire be identical in type (radial) and size as the one being replaced. Using a tire of the same make (manufacturer) will prevent alteration of the driving characteristics of the vehicle.
See also:
Warning lightЧdriver braking required
Adaptive Cruise Control can exert brake force that is equivalent to approximately 40% of the vehicle's total braking capacity. In situations requiring more brake force than ACC can provide and ...
Driving dynamics: engine
The second-generation, 2.4-litre, five-cylinder, diesel D5 is a cleaner and more advanced version of the engine fitted to the outgoing XC70. It gives superb performance (130mph) allied to fuel eco ...
Confirmation when locking/unlocking the vehicle
Settings can be made in the menu system for audible and visual confirmation when the vehicle has been locked or unlocked. With these functions activated, the following will occur when the vehi ...