Inflating tires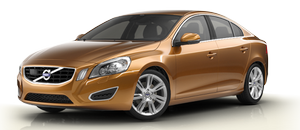 The tire sealing system can be used to inflate the tires. To do so:
1. Park the car in a safe place.
2. The compressor should be switched off. Ensure that the on/off switch is in position 0 (the 0 side of the switch should be pressed down).
3. Take out the electrical wire and hose.
4. Remove the valve cap from the tire's inflation valve and screw the hose connector onto the valve as tightly as possible by hand.
5. Connect the electrical wire to the nearest 12-volt socket in the vehicle.
6. Start the vehicle's engine.

WARNING
The vehicle's engine should be running when the tire sealing system is used to avoid battery drain. Therefore, be sure the vehicle is parked in a well ventilated place, or outdoors, before using the system.
Children should never be left unattended in the vehicle when the engine is running.
7. Check the tire's inflation pressure on the gauge. Switch off the compressor briefly to get a clear reading from the pressure gauge.
8. Refer to the tire inflation table in this chapter for the correct inflation pressure. If the tire needs to be inflated, start the tire sealing system's compressor (press the on/off switch to position I). If necessary, release air from the tire by turning the air release knob counterclockwise.
The compressor should not be used for more than 10 minutes at a time to avoid overheating.
9. Turn off the compressor (press the on/off switch to position 0) when the correct inflation pressure has been reached.
10. Unscrew the hose from the tire's inflation valve and reinstall the valve cap.
11. Disconnect the electrical wire from the 12-volt socket.
See also:
Driving dynamics: chassis
The Volvo XC70 is equally adept at powering down muddy slopes, towing a boat up a slippery ramp or cruising on the motorway. 'Here is a cross-country vehicle that is extremely capable off-road yet ...
RSE-AUX connectors and 12-voltsocket
The three color-coded (yellow-white-red) RSEAUX connectors can be used to connect an auxiliary device to the RSE system. Always follow the connection instructions provided with the auxiliary devic ...
Menu settings
The following pages list the main menus/submenus and possible selections. Car key memory See pages 86 and 57 for more information. Lock settings Automatic door locking Doors unlock &nbsp ...