Accessory installation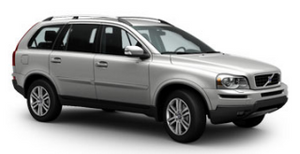 Х We strongly recommend that Volvo owners install only genuine, Volvo-approved accessories, and that accessory installations be performed only by a trained and qualified Volvo service technician.
Х Genuine Volvo accessories are tested to ensure compatibility with the performance, safety, and emission systems in your vehicle.
Additionally, a trained and qualified Volvo service technician knows where accessories may and may not be safely installed in your Volvo. In all cases, please consult a trained and qualified Volvo service technician before installing any accessory in or on your vehicle.
Х Accessories that have not been approved by Volvo may or may not be specifically tested for compatibility with your vehicle.
Additionally, an inexperienced installer may not be familiar with some of your car's systems.
Х Any of your car's performance and safety systems could be adversely affected if you install accessories that Volvo has not tested, or if you allow accessories to be installed by someone unfamiliar with your vehicle.
Х Damage caused by unapproved or improperly installed accessories may not be covered by your new vehicle warranty.
See your Warranty and Service Records Information booklet for more warranty information. Volvo assumes no responsibility for death, injury, or expenses that may result from the installation of non-genuine accessories.
See also:
Introduction
Display when the radio is receiving an HD Radio broadcast NOTE HD radio volume may fade in and out at times due to coverage limitations. HD radio is a brand name registered by the Ibiquity di ...
Unlocking the vehicle
Х A keyless drive remote key must be on the same side of the vehicle as the door to be opened, and be within 5 feet (1.5 meters) of the door's lock or the tailgate (see the shaded areas in the ...
Safety Features
The S80 excels at safety. Before the little bubble above your head fills with the word "Duh," let me add that this Volvo has some breakthrough safety gizmos we hadn't seen until very rec ...