Power door mirrors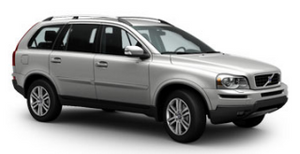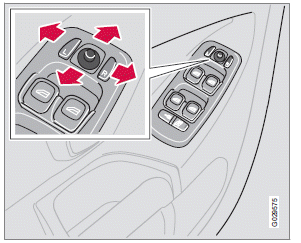 The mirror control switches are located on the driver's door armrest.
Driver's side: Press the L button (a light in the switch will light up) to activate the adjustment control and then use this control to adjust the driver's door mirror.
Passenger's door: Press the R button (a light in the switch will light up) and then use the adjustment control to adjust the passenger's door mirror.
After you have adjusted the mirror(s), press the L or R switch again (the light will go out) to deactivate the adjustment control.
For information about the optional folding mirror function.
WARNING
The mirrors should always be adjusted prior to driving. Objects seen in the passenger's side wide-angle door mirror are closer than they appear to be.
Mirror memory function (with the central locking system)
If you lock the vehicle and later unlock it with the same remote key and open the driver's door, the door mirrors (and the driver's seat) will automatically move to the position they were in when you left the vehicle. This feature will work in the same way with all of the remote key transmitters (up to 3) that you use with your vehicle. This feature will not function if you lock your vehicle with the key.
Water repellent glass

The side door mirrors can be treated with a water repellent coating. The symbol to the left indicates these windows have this coating.
The coating improves vision by causing the water to run off quickly.
For information on cleaning this type of glass.
CAUTION
Use the heating function to remove ice, snow, or mist from the mirrors.
See also:
Exterior
For 2008, the nose and tail are modified, and though Volvo says it has changed the headlights and taillights, it seems limited to the elements within, such as taillamp LEDs and lens colors, and no ...
Infant seats
Securing an infant seat with a seat belt Do not place the infant seat in the front passenger's sea NOTE Refer to page 48 and page 50 for information on securing a child restraint using ISOFIX/ ...
Other voice control settings found in MY CAR
Voice user setting: Two user profiles can be set by pressing MY CAR and going to Settings Voice settings Voice user setting. Select User 1 or User 2. Voice output volume: Press MY CAR and go t ...