Automatic transmission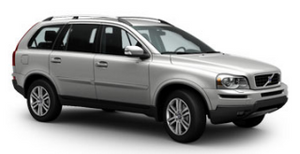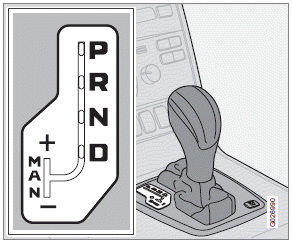 P (Park)
Use this position when starting the engine or parking the vehicle.
Never use P while the vehicle is in motion.
The parking brake should also be set whenever the vehicle is parked.
The gear selector is mechanically locked in the P position (SHIFTLOCK). To release the gear selector from this position, the engine must be running (or the ignition key must be in position II) and the brake pedal must be depressed.
N (Neutral)
Neutral Ц no gear engaged. Use the parking brake.
WARNING
Never leave the vehicle unattended when the engine is running. If, by mistake, the gear selector is moved from P, the vehicle may start moving.
R (Reverse)
Never engage R while the vehicle is moving.
D (Drive)
D is the normal driving position and should be used as often as possible to help improve fuel economy. The vehicle should not be moving when shifting from R to the D position.
NOTE
The transmission has 6 forward speeds.
See also:
Current speed in km/h (U.S. models only)
This function provides the driver with an instantaneous conversion of the car's current speed from mph to km/h. ...
Adjusting the set speed
After a speed has been set, it can be increased or decreased by using the or buttons. 1. Press and hold down or until the vehicle reaches the desired speed. > This will become the set ...
Exterior
The midsize XC70 rides a 108.8-inch wheelbase and measures 186.3 inches long overall. Rounded front corners resemble those of Volvo's S80 sedan, but the rear half retains the straight lines and pr ...