Automatic transmission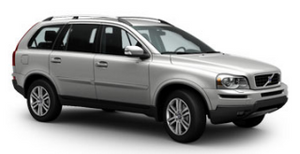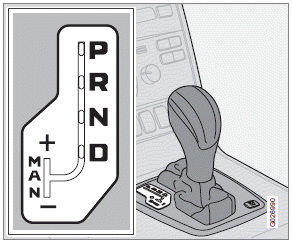 P (Park)
Use this position when starting the engine or parking the vehicle.
Never use P while the vehicle is in motion.
The parking brake should also be set whenever the vehicle is parked.
The gear selector is mechanically locked in the P position (SHIFTLOCK). To release the gear selector from this position, the engine must be running (or the ignition key must be in position II) and the brake pedal must be depressed.
N (Neutral)
Neutral – no gear engaged. Use the parking brake.
WARNING
Never leave the vehicle unattended when the engine is running. If, by mistake, the gear selector is moved from P, the vehicle may start moving.
R (Reverse)
Never engage R while the vehicle is moving.
D (Drive)
D is the normal driving position and should be used as often as possible to help improve fuel economy. The vehicle should not be moving when shifting from R to the D position.
NOTE
The transmission has 6 forward speeds.
See also:
Unique functions—PCC
1 Information button 2 Indicator lights Pressing the information button provides certain information about the vehicle with the help of the indicator lights. ...
Indicator and information symbols
Fault in the Active Bending Light (ABL) system This symbol will illuminate if the there is a fault in the ABL system. See page 93 for more information about this system. Malfunction ...
Audio volume and automatic volume control
The infotainment system compensates for disrupting noises in the passenger compartment by increasing the volume according to the speed of the vehicle. The level of sound compensation can be se ...