Inflating tires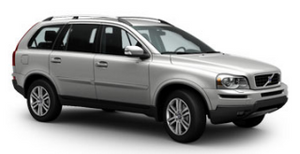 The tire sealing system can be used to inflate the tires. To do so:
1. Park the car in a safe place.
2. The compressor should be switched off.
Ensure that the on/off switch is in position 0 (the 0 side of the switch should be pressed down).
3. Take out the electrical wire and hose.
4. Remove the valve cap from the tire's inflation valve and screw the hose connector onto the valve as tightly as possible by hand.
5. Connect the electrical wire to the nearest 12-volt socket in the vehicle.
6. Start the vehicle's engine.
WARNING
• The vehicle's engine should be running when the tire sealing system is used to avoid battery drain. Therefore, be sure the vehicle is parked in a well ventilated place, or outdoors, before using the system.
• Children should never be left unattended in the vehicle when the engine is running.
7. Check the tire's inflation pressure on the gauge. Switch off the compressor briefly to get a clear reading from the pressure gauge.
8. Refer to the tire inflation tables for the correct inflation pressure. If the tire needs to be inflated, start the tire sealing system's compressor (press the on/off switch to position I). If necessary, release air from the tire by turning the air release knob counterclockwise.
CAUTION
The compressor should not be used for more than 10 minutes at a time to avoid overheating.
9. Turn off the compressor (press the on/off switch to position 0) when the correct inflation pressure has been reached.
10. Unscrew the hose from the tire's inflation valve and reinstall the valve cap.
11. Disconnect the electrical wire from the 12- volt socket.
See also:
Technician certification
In addition to Volvo factory training, Volvo supports certification by the National Institute for Automotive Service Excellence (A.S.E.). Certified technicians have demonstrated a high degree of c ...
Under the Hood
The XC70's turbocharged 2.5-liter inline-five-cylinder delivers 208 horsepower and 236 pounds-feet of torque. Volvo's standard Geartronic five-speed-automatic transmission has a feature that permi ...
Cleaning the upholstery
Fabric Clean with soapy water or a detergent. For more difficult spots caused by oil, ice cream, shoe polish, grease, etc., use a clothing/fabric stain remover. Consult your Volvo retailer. Inter ...