2008 Volvo C30 Review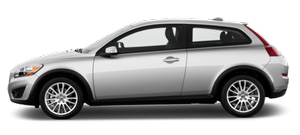 The once utilitarian hatchback has become the new cool car (again), with automakers flooding the market with small, uniquely styled models. Volvo's new four-seat C30 joins the Mini Cooper Ч the car that really rejuvenated this segment Ч and the Volkswagen GTI in the premium-hatch subcategory.
Like the Mini Cooper, the C30 is defined by its styling. The Volvo's interesting shape sets it apart from its competitors, and it also has a healthy dose of athleticism thanks to its turbo five-cylinder engine and sport-tuned chassis. I know what you're thinking, but I'm not pulling your leg: The C30 really is a Volvo, and it's one that has the goods to create a loyal group of followers like the Cooper and GTI enjoy.
See also:
Automatic car wash
Х We do NOT recommend washing your car in an automatic wash during the first few months (because the paint will not have hardened sufficiently). Х An automatic wash is a simple and quick way ...
Impact protection
The two front airbags are 'intelligent' and deploy in two stages according to the severity of the accident, alleviating the risk of facial injuries caused by the occupants' faces impacting with th ...
Automatic relocking
If the doors are unlocked, the locks will automatically reengage (re-lock) and the alarm will rearm after 2 minutes unless a door or the trunk has been opened. ...