2008 Volvo C30 Review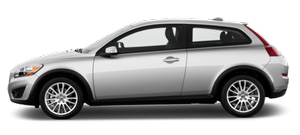 The once utilitarian hatchback has become the new cool car (again), with automakers flooding the market with small, uniquely styled models. Volvo's new four-seat C30 joins the Mini Cooper — the car that really rejuvenated this segment — and the Volkswagen GTI in the premium-hatch subcategory.
Like the Mini Cooper, the C30 is defined by its styling. The Volvo's interesting shape sets it apart from its competitors, and it also has a healthy dose of athleticism thanks to its turbo five-cylinder engine and sport-tuned chassis. I know what you're thinking, but I'm not pulling your leg: The C30 really is a Volvo, and it's one that has the goods to create a loyal group of followers like the Cooper and GTI enjoy.
See also:
Function
Function overview 1 - Warning light, braking by driver required 2 - Controls in steering wheel 3 - Radar sensor in front grille Adaptive Cruise Control consists of: A cruise control system ...
Quality and Equipment
A passion for high quality lies at the heart of the Volvo brand. This is inherent not only in the build quality that reflects the ruggedness, durability and reliability for which Volvo is renowned ...
Reverse
The vehicle must be stationary when position R is selected. ...