Overview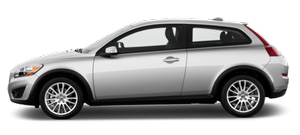 The smallest yet most expressively designed of all Volvos, the C30 has a radical and refreshing appearance. Its unique styling creates its distinct personality whilst closely aligning it to the all-new S60 and the C70. There is a wide choice of options including the introduction of a new colour combination - Espresso/Blond, colours and accessories allowing customers to personalise their C30.
To complement the Volvo C30's dynamic style, an optional Sports chassis is available to give the car a significantly sharper ride. Standard on R-DESIGN models, the Sports chassis is also available as an option on selected models in SE and SE Lux trim levels.
The Volvo C30 features four individual seats. The rear seats are mounted towards the centreline of the car, improving head and shoulder-room. 'We were convinced that four seats, not five, was the correct approach,' says Mr Abrahamsson, C30 Project Director. 'Four seats mean great rear seat comfort for both rear passengers. Five would have been a compromise. Besides, Volvo has many five-seat cars. If you want five seats, you can buy a Volvo S40 saloon or a V50 Sportswagon. On most journeys, we doubt whether the rear seats will even be used. Mostly, the rear seats will probably be folded flat, giving an amazing cargo space.'
Harking back to the iconic Volvo P1800S, another feature which has been continued into the new model is the distinctive all-glass tailgate which offers excellent rear visibility. A load cover is available to protect luggage from prying eyes.
There is a choice of seven engines (three petrol and four diesel), including four and five-cylinder units. The petrol range includes a light and efficient 100 PS 1.6-litre, 145 PS 2.0-litre and a five-cylinder T5 model generating 230 PS that can achieve 0-60 mph in 6.2 seconds. The four diesels include the road-tax exempt 109 PS 1.6D DRIVe engine, which has CO2 emissions of just 99g/km, plus the new four cylinder 115 PS 1.6 D2 and five cylinder 150 PS 2.0 D3 and 177 PS 2.0 D4.
The Volvo C30 is also an extremely safe car in an accident. Safety innovations include an Inflatable Curtain to protect both front and rear passengers, safety belt tensioners, Whiplash Protection System (WHIPS) and Side Impact Protection System (SIPS) plus SIPS airbags. In addition, every Volvo C30 has DSTC (Dynamic Stability and Traction Control), and ABS brakes with EBD (Electronic Brake Distribution) and EBA (Electronic Brake Assistance).
See also:
Function
The driver sees what is behind the vehicle and if a person or animal should suddenly appear from the side. PAC is mounted on the tailgate, near the opening handle. The camera has built-in el ...
Impact protection
The two front airbags are 'intelligent' and deploy in two stages according to the severity of the accident, alleviating the risk of facial injuries caused by the occupants' faces impacting with th ...
Collision Warning
The radar sensor and the camera work together to detect a pedestrian, stationary vehicles and vehicles that are moving in the same direction as your vehicle. If there is a risk of collision wi ...