Environment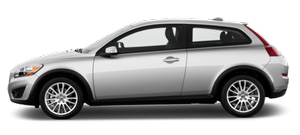 Volvo is passionately committed to protecting our environment. Along with safety, environmental protection is a cornerstone of the Volvo brand, commensurate with the company's philosophy to protect life.
Low CO2 emitting DRIVe range
Reducing fuel consumption and CO2 emission level offers a range of benefits, both for the environment and the buyer's pocket. The full DRIVe range now includes the XC60 crossover, V70 and XC70 premium estates and S80 executive saloon. The S40 saloon and V50 Sportswagon all offer outstanding CO2 emissions of 104 g/km thanks to the introduction of an intelligent Start/Stop system. The C30 1.6D DRIVe with Start/Stop offers 99 g/km, meaning it's exempt from annual road tax.
'Clean Inside and Out' Environmental commitment
Volvo's 'Clean Inside and Out' commitment represents a holistic approach to the environmental impact of cars, including the ecological consequences of production, use and disposal of the vehicle.
Many people do not know that the air inside a car can be just as harmful as pollutants outside, or that the materials used in a car's interior can emit substances that can cause allergies and distress. The air-conditioning system also incorporates an air filter that prevents dust, pollen and exhaust gas particles entering the car.
The Volvo C30's cabin features materials that are hypoallergenic and free from any hazardous substances. They meet a strict international standard called Oeko-Tex. This also includes all materials that occupants are likely to touch, including exterior and interior door handles, upholsteries, plastics and ignition key.
Ghent factory one of Europe's most environmentally friendly
The Volvo C30 is made at Volvo Car Corporation's Ghent factory in Belgium, alongside the Volvo S40, V50 Sportswagon and XC60. Recently, over 340 million euros (£230 million) have been invested to make the factory more efficient and as environmentally friendly as possible. In every case, substances and processes have been chosen to minimise ecological impact. These include CFC-free materials, water-borne paint and chromium-free body material pre-treatment.
All materials used in the manufacture of the Volvo C30 have been carefully chosen. Eighty-five percent of the car, by weight, can be recycled. Recycled wood fibre and felt are used in some interior trim, and all plastic components are specially marked to help recycling.
See also:
The camera's limitations
The camera is used by Collision Warning with Auto-brake, Driver Alert Control (see page 180), and Lane Departure Warning (see page 183). NOTE • To help protect the camera in very hot conditi ...
Electronic climate control, ECC
Temperature control, driver's side Heated driver's seat* Defroster (maximum effect) Blower Manual air distribution—floor Manual air distribution—dashboard air vents Manual air ...
Overview
Center console control panel 1 VOL: Volume control 2 MEDIA button 3 TUNE: Turn to navigate among menu alternatives and folders shown in the display. 4 OK/MENU: Press to confirm your selection ...