Jump starting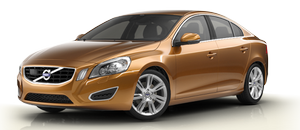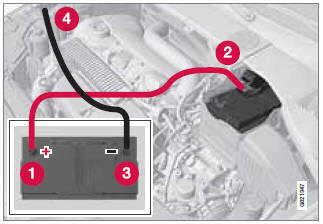 Connecting the jumper cables
Follow these instructions to jump start your vehicle's dead battery or to jump start another vehicle's dead battery using your vehicle. If the 12-volt auxiliary battery to be used is in another vehicle, check that the vehicles are not touching to prevent premature completion of a circuit. Be sure to follow jump starting instructions provided for the other vehicle.
To jump start your vehicle:
1. Switch off the ignition (set the ignition to mode 0, see page 86).
2. First connect the red jumper cable to the auxiliary battery's positive (+) terminal (1).
3. Fold back the cover over the positive (+) terminal on your vehicle's battery (2), marked with a "+" sign, located under a folding cover.
4. Connect the black jumper cable to the auxiliary battery's negative (–) terminal (3) and to the ground point in your vehicle's engine compartment (right engine mount at the top, on the outer screw) (4).
5. Start the engine in the assisting vehicle, then start the engine in the vehicle with dead battery.
6. After the engine has started, first remove the negative (–) terminal jumper cable (black). Then remove the positive (+) terminal jumper cable (red).

WARNING PROPOSITION 65 WARNING!
Battery posts, terminals, and related accessories contain lead and lead compounds, chemicals known to the state of California to cause cancer and reproductive harm. Wash hands after handling.
CAUTION
Connect the jumper cables carefully to avoid short circuits with other components in the engine compartment.

WARNING
Do not connect the jumper cable to any part of the fuel system or to any moving parts. Avoid touching hot manifolds.
Batteries generate hydrogen gas, which is flammable and explosive.
Battery fluid contains sulfuric acid. Do not allow battery fluid to contact eyes, skin, fabrics or painted surfaces. If contact occurs, flush the affected area immediately with water. Obtain medical help immediately if eyes are affected.
Never expose the battery to open flame or electric spark.
Do not smoke near the battery.
Failure to follow the instructions for jump starting can lead to injury
See also:
Inflatable Curtain (IC)
General information This system consists of inflatable curtains located along the sides of the roof liners, stretching from the center of both front side windows to the rear edge of the rear ...
Severe strain on the brake system
The brakes will be subject to severe strain when driving in mountains or hilly areas, or when towing a trailer. Vehicle speed is usually slower, which means that the cooling of the brakes is less ...
Keylock
When you switch off the ignition, the gear selector must be in the P (Park) position before the key can be removed from the ignition switch. ...