DRIVING DYNAMICS: POWERTRAINS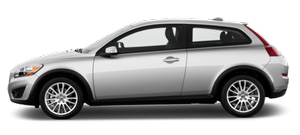 All C30s are front-wheel drive, with the transverse engine design improving space efficiency. It also improves safety by creating a generous crumple zone in the engine compartment. The five-cylinder engines - which are naturally longer than four-cylinder engines - can only be accommodated transversely due to their extremely compact design.
The Volvo range has been enhanced with a range of new engine additions and enhancements for the 2011 Model Year update. These new engines include the addition of a new two-litre five cylinder diesel powerplant which replaces the familiar four-cylinder 136 PS unit and a new 115 PS four cylinder unit.
As part of Volvo's new engine nomenclature and to simplify Volvo's engine badging, all new engines, including the new five-cylinder 2.0D, will be badged depending on the power output. For example, the 150 PS version of the new 2.0D is named D3 and an uprated 177 PS version of this same engine is labeled D4. This hierarchic naming has been introduced to allow customers to more easily understand which engine is the most powerful and which fuel it is driven by - D for diesel and historically T has been used for Volvo's petrol cars. Volvo's naming strategy also follows the principle that the higher the number the more powerful it is - a D5 engine has more power that a D3.
Five-cylinder D3 and D4 models
The new five-cylinder 2.0D engine is fitted in two guises to the Volvo C30. In its lower state of tune, it produces 150 PS and is badged D3 while an uprated 177 PS version is named D4. Both emit only 134 g/km of CO2 and offer drivers 55.4 mpg in the C30, S40 and V50 and 47.9 mpg and 154 g/km in the C70. The D3 and D4 are available in both manual and automatic transmission across all four models.
The new five-cylinder 2.0D diesel is, in principle, the same engine as the well-established 2.4-litre diesel, but its displacement has been reduced with a shorter stroke to optimise fuel consumption. The injection system also has a different type of piezoelectric fuel injector compared with the D5 engine. These injectors minimize fuel consumption with their exceptionally rapid and precise injection pulses under high pressure to promote extremely efficient combustion. This engine is now available to order in all cars across the range apart from the Volvo XC90 seven-seat SUV.
"This new engine offers greater driving pleasure across the range and our strong drive to reduce carbon dioxide emissions means that fuel consumption has been cut as well," says Magnus Jonsson, Senior Vice President Product Development at Volvo Cars.
The five-cylinder D3 model boasts 150PS and 350Nm of torque from 1500-2750rpm. Available with either manual or Geartronic transmission, it takes 8.8 secs (8.9 Geartronic) to accelerate from 0-60mph and will return up to 55.4mpg (48.7mpg Geartronic) fuel economy.
The fastest diesel versions are the D4 models, which feature a development of the D3 engine that results in 400Nm of torque from 1750-2750rpm. 0-60mph drops to 8.1 seconds for manual versions and 8.2 seconds for Geartronic models, while leaving fuel economy unaffected over D3 levels (55.4mpg, manual and 48.7mpg for Geartronic).
New D2 engine with 114 g/km CO2 emissions
The Volvo C30 is also available with a new four cylinder 1.6-litre diesel engine - badged D2. Fuel consumption in all three models is 65.7 mpg, which corresponds to CO2 emissions of only 114 g/km. The engine produces 115 PS and 270 Nm of torque and now comes with a six-speed manual gearbox as standard.
The D2, D3 and D4 engines all meet the Euro 5 emission standards.
Volvo C30 1.6D DRIVe with Start/Stop lowering CO2 emissions to 99 g/km
The 1.6D DRIVe model, which features Start/Stop technology to reduce CO2 emissions to just 99g/km, showcases Volvo's ability to produce increasingly efficient vehicles with outstanding economy to rival even the smallest diesel-engined competitors. With the help of special DRIVe wind deflectors and a lowered chassis, the Volvo C30 with the highly efficient 109 PS 1.6D DRIVe engine is road tax exempt under the current regulations and can return up to 74.3mpg on the combined fuel economy cycle.
In order to reduce CO2 emissions to 99 g/km, the Volvo C30 1.6D DRIVe model features an intelligent Start/Stop function that allows the engine to switch off when the car is at a standstill.
Start/Stop functions when the driver puts the gear lever into neutral and releases the clutch while at a standstill. When the driver next depresses the clutch, the engine starts up again automatically. This technology reduces fuel consumption and thus CO2 emissions by 4-5 per cent in mixed driving conditions. Start/Stop technology is particularly effective in urban traffic, where the saving can be as much as 8 per cent.
When the car is at a standstill and the engine is switched off, some electronic systems such as the air conditioning step down to standby level in order to save fuel. However, Volvo's Start/Stop system continuously monitors the comfort level and automatically reactivates the air conditioning if, for instance, the temperature increases in the passenger compartment. The system does not set any limits for comfort-focused features such as the sound system or other facilities that the occupants will want to maintain.
This innovative monitoring system has been made possible due to an additional small battery which supports the larger battery by providing extra power. Thanks to this extra battery, Volvo's DRIVe models also feature particularly quick and smooth start-up. The audio system also remains unaffected when the starter motor is activated. This distinguishes Volvo Car's solution from other systems offered by the competition. The standard larger battery has also been upgraded to handle up to 175,000 Start/Stop cycles.
The driver continuously receives feedback about system status via the in-car information display. The Start/Stop function can be engaged and disengaged via a DRIVe button in the centre console and in the default setting, the function is activated.
The C30 1.6D DRIVe with Start/Stop also features a regenerative charge facility. This charges the battery as soon as the driver releases the accelerator or brakes while a gear is engaged. By harnessing the car's kinetic energy, the alternator does not have to use diesel fuel as a power source to recharge the car's battery. Fuel savings of between 2 and 3 per cent have been achieved with this function.
Road wheel design was another area of development and drag has been cut with the adoption of a new, flush-style 16-inch diameter alloy wheel, the Diamond Cut Libra (optional upgrade to alternative alloys available). As for tyres, Volvo worked closely with Michelin to develop a compound with uncompromising handling and wear characteristics coupled with low rolling resistance.
Further economy benefits were made by optimising engine and gearbox management software and introducing electrohydraulic steering. There is also a Gear Shift Indicator that informs the driver of the optimum time to change gears and achieve better fuel consumption. The final ingredient is low friction transmission oil used in the gearbox. Individually, the modifications may seem small, but combined they produce a dramatic effect on overall efficiency.
Four-cylinder petrol engines
The combination of light overall kerb weights and the 100 PS 1596cc engine, with 150Nm of torque at 4,000rpm, gives the 1.6 a top speed of 115mph and 0-60mph acceleration in 11.2 seconds, with emissions of 167 g/km and 40.4mpg on the combined cycle.
The 1999cc, 2.0 petrol engine produces 145 PS with 185 Nm of torque at 4500rpm and emissions of 177 g/km. It is the best performing four-cylinder petrol model with a top speed of 130mph and 0-60 acceleration that takes only 8.8 seconds, yet it can return 37.2mpg fuel economy on the combined cycle.
Five-cylinder petrol performance
The fastest Volvo C30 is the 230 PS, T5. It uses Volvo's familiar and popular light-pressure turbo, 2521cc, five-cylinder engine. Not only is it strong in absolute performance but its wide spread of torque makes it highly responsive over a wide rev band. Maximum torque of 320 Nm comes from as little as 1500 rpm and is available all the way up to 5000 rpm. Being a five-cylinder, the engine offers a unique blend of performance, economy and aural enjoyment. Top speed is 149 mph, 0-60 mph acceleration takes 6.2 seconds, while it delivers 32.5mpg on the combined cycle.
Transmissions
Two manual transmissions are offered: a six-speed manual is standard on the D2, D3, D4 and T5 models, while the 1.6 and 2.0 petrol engines and the 1.6D DRIVe have a standard five-speed manual transmission.
The five-speed Geartronic transmission, which can be driven either as a conventional automatic or a clutchless sequential manual, is available as an option with the T5 engine. A six-speed Geartronic transmission is available as an option on D3 and D4 models.
See also:
Chassis, steering and brakes
Excellent driving dynamics was a priority for the new Volvo C70. Convertible cars are renowned for poor structural rigidity - which hurts handling response, refinement and safety. By contrast, the ...
Optimal sound reproduction
The audio system is pre-calibrated for optimal sound reproduction using digital signal processing. This calibration takes into account factors such as the speakers, amplifier, cabin acoustics, th ...
Search
The keypad in the center console can be used to search for a file in the currently selected folder. Start the search by either turning TUNE (to access the folders) or by pressing one of the chara ...