Locking or unlocking the vehicle with the key blade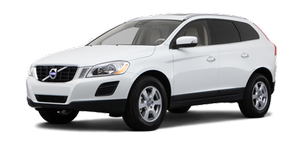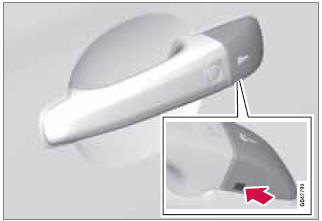 Keyless drive keyhole cover
The driver's door on vehicles equipped with keyless drive can be locked or unlocked with the remote key's detachable key blade if necessary, see page 61 for information on removing the key blade from the remote key. To access the keyhole in the driver's door:
1. Press the key blade approx. 0.5 in. (1 cm) straight up in the hole on the underside of the keyhole cover.
> The cover will come off due to the pressure exerted when the key blade is pushed upward.
2. Insert the key blade as far as possible in the driver's door lock. Turn the key blade to unlock the driver's door only. This will trigger the alarm. Press the remote key into the ignition slot to turn off the alarm.
3. Press the cover back into place after the door has been unlocked.
See also:
Function
A vehicle towing a trailer may begin to sway for various reasons. Normally this only occurs at high speeds but, for example, if the trailer is overloaded or if the load is unevenly distributed ...
Home safe lighting
When you leave your vehicle at night, you can make use of the home safe lighting function to illuminate the area in front of the vehicle. 1. Remove the key from the ignition slot. 2. Pull the turn ...
Detachable key blade
Each remote key or PCC contains a detachable metal key blade for mechanically locking or unlocking the driver's door and the glove compartment. See page 61 for more information on the key blade ...