Keyless locking and unlocking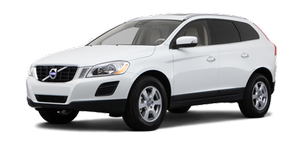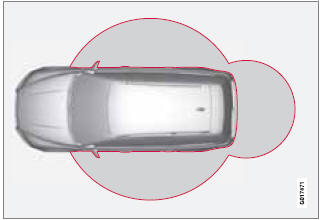 Range of the keyless drive remote key–5 ft (1.5 meters)
This system makes it possible to unlock and lock the vehicle without having to press any buttons on the Personal Car Communicators (PCC). It is only necessary to have a keyless drive remote key in your possession to operate the central locking system.
NOTE
• The gear selector must in the P position before the vehicle can be locked and the alarm can be armed.
• The buttons on the keyless drive remote key can also be used to lock and unlock the vehicle, see page 58 for more information.
Both of the PCCs provided with the vehicle have the keyless function, and additional ones can be ordered. The system can accommodate up to six PCCs.
The red rings in the illustration indicate the area around the vehicle that is within range of the keyless drive antennas.
See also:
Rear fog light
The rear fog light (located on the driver's side of the vehicle) can be reached from behind the bumper 1. Remove the bulb holder by turning it counterclockwise. 2. Remove the burned out bulb ...
Active chassis (Four C)
Active chassis, Four-C (Continuously Controlled Chassis Concept), regulates the characteristics of the shock absorbers so that the car's driving characteristics can be adjusted. There are thre ...
Engine range
At launch, the Volvo S60 range will be available with a choice of two diesels and one petrol engine. All the engines have been developed to meet the highest demands on sporty, dynamic driving with ...