Keyless locking and unlocking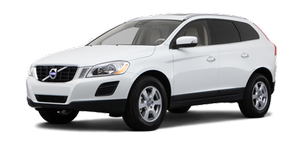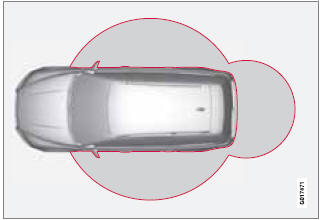 Range of the keyless drive remote key–5 ft (1.5 meters)
This system makes it possible to unlock and lock the vehicle without having to press any buttons on the Personal Car Communicators (PCC). It is only necessary to have a keyless drive remote key in your possession to operate the central locking system.
NOTE
• The gear selector must in the P position before the vehicle can be locked and the alarm can be armed.
• The buttons on the keyless drive remote key can also be used to lock and unlock the vehicle, see page 58 for more information.
Both of the PCCs provided with the vehicle have the keyless function, and additional ones can be ordered. The system can accommodate up to six PCCs.
The red rings in the illustration indicate the area around the vehicle that is within range of the keyless drive antennas.
See also:
Paths
The current menu level is displayed at the upper right of the center console display. Menu paths are displayed as follows, for example: The following is an example of how to set a function in the ...
Shiftlock override
If the vehicle cannot be driven, for example because of a dead battery, the gear selector must be moved from the P position before the vehicle can be moved3. 1 - Lift away the rubber mat on the f ...
Standby mode (temporary deactivation)
Press to temporarily deactivate cruise control (put it in standby mode). The set speed, for example 55 mph, is then shown in parentheses. The previously set speed and time interval are resumed by ...