Lowering the spare wheel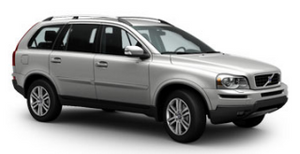 The spare wheel is located under the floor of the rear cargo compartment. It can be lowered using the crank (see previous page for location).
WARNING
When raising or lowering the spare wheel, please keep in mind that components in the exhaust system may be very hot.
To lower the spare wheel:
1. Fold down the lower section of the tailgate.
2. Fold up the rear section of the floor in the cargo compartment.
3. Connect the two sections of the jack's crank.
4. Insert the hooked end of the crank in the spare wheel retaining attachment.
5. Lower the spare wheel under the vehicle by turning the crank counterclockwise until it is not possible to turn it further.
6. Pivot the toggle at the end of the cable 90 degrees to release it from the spare wheel
CAUTION
When the spare wheel is mounted on the vehicle, the retaining cable could damage the underside of the vehicle if it is not retracted.
7. Crank up the cable again by turning the crank clockwise.
8. Place the wheel with the flat tire in the vehicle's cargo compartment.
NOTE
The space under the vehicle is designed to hold the special spare wheel only. Other fullsize wheels will not fit in this compartment.
See also:
Air distribution
The incoming air is distributed from a number of different vents in the passenger compartment. Air distribution is fully automatic in AUTO mode. If desired, air distribution can be controlled ma ...
Using an integrated booster cushion
Stage 1 1 Pull the handle (1) forward and upward (2) to release the booster cushion. 2 Press the booster cushion rearward to lock it in position. Stage 2 1 With the booster cushion in ...