Snow chains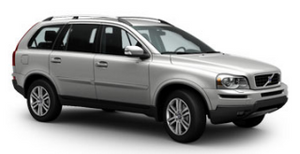 Snow chains can be used on your Volvo with the following restrictions:
Х Snow chains should be installed on front wheels only. Use only Volvo approved snow chains.
Х If accessory, aftermarket or "custom" tires and wheels are installed and are of a size different than the original tires and wheels, chains in some cases CANNOT be used.
Sufficient clearances between chains and brakes, suspension and body components must be maintained.
Х Some strap-on type chains will interfere with brake components and therefore CANNOT be used.
Х All Wheel Drive models: Snow chains should only be installed on the front wheels.
Х Certain size tires may not allow the assembly of snow chains/traction devices.
Consult your Volvo retailer for additional snow chain information.
CAUTION
Х Check local regulations regarding the use of snow chains before installing.
Х Always follow the chain manufacturer's installation instructions carefully. Install chains as tightly as possible and retighten periodically.
Х Never exceed the chain manufacturer's specified maximum speed limit. (Under no circumstances should you exceed 31 mph (50 km/h)).
Х Avoid bumps, holes or sharp turns when driving with snow chains.
Х The handling of the vehicle can be adversely affected when driving with chains. Avoid fast or sharp turns as well as locked wheel braking.
See also:
Deactivation
Move the gear selector from R to another position. There is a slight delay in the PAC system, which means that the view from behind the vehicle will remain on the screen for approximately 15 se ...
Calling a contact
The dialogue below enables you to call the predefined contacts in your cell phone. See the phone's user's guide if necessary. The user initiates the dialogue by saying: Phone > call contact ...
Navigating in the menus
Infotainment settings are made via the system's menus. Press one of the mode buttons (RADIO, MEDIA, or TELЧsee the illustration on page 206) to select it and access its specific menus. When a ...