Key blades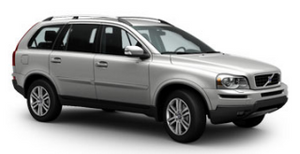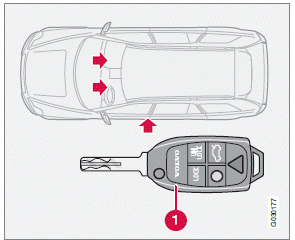 Your vehicle is equipped with two coded remote key transmitters with integrated ignition key blades called Key Integrated Remote (KIR).
To unlock/lock the vehicle using the key blade:
Х Insert the key blade in the driver's door lock and turn it once to unlock the driver's door only.
Х Turn the key blade again (within 10 seconds) to unlock all doors and the tailgate.
Х Turn the key blade once in the opposite direction to lock all doors and the tailgate.
Use the switch on the driver's door armrest to lock/unlock the vehicle from the inside.
WARNING
If the doors are locked while driving, this may hinder rapid access to the occupants of the vehicle in the event of an accident.
(Also see information on "Child safety locks".)
NOTE
To help prevent accidentally locking the keys in the vehicle, the central locking system is designed to unlock the doors immediately if the key is left in the ignition switch, the vehicle is locked using the lock button on the door and the door is then closed. A sound from the lock will be audible at this time.
Please note that this function will not unlock the doors if the engine is running.
Immobilizer (start inhibitor)
Each of the keys supplied with your vehicle contains a coded transmitter. The code in the key is transmitted to an antenna in the ignition switch where it is compared to the code stored in the start inhibitor module. The vehicle will start only with a properly coded key.
Each key has a unique code, which your Volvo retailer uses if new keys are required. A maximum of six remote keys can be programmed and used for one vehicle.
If you misplace a key, take the other keys to an authorized Volvo retailer for reprogramming as an antitheft measure.
If two of the keys to your vehicle are close together, e.g., on the same key ring, when you try to start the vehicle, this could cause interference in the immobilizer system and result in the vehicle not starting. If this should occur, remove one of the keys from the key ring before trying to start the vehicle again.
NOTE
This device complies with part 15 of the FCC rules. Operation is subject to the following condition: (1) This device may not cause harmful interference, and (2) this device must accept any interference received, including interference that may cause undesired operation.
See also:
Common functions: Remote key/ Personal Car Communicator (PCC)*
Personal Car Communicator (PCC)* Lock Unlock Approach lighting Trunk unlock/open Panic alarm ...
Limitations
In certain situations, the BLIS indicator light(s) may illuminate even when there are no other vehicles in the area monitored by the system. NOTE If the BLIS indicator lights illuminate occasional ...
Comfort and convenience
While the interior of the Volvo S40 places an emphasis on style, form has not been allowed to take precedence over function. The fascia ergonomics have been carefully designed and drivers will fin ...