Operation and function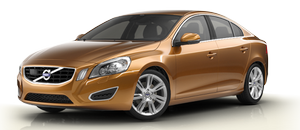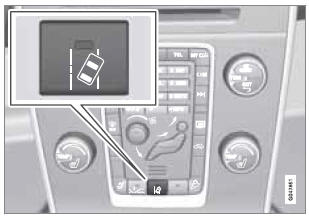 LDW can be switched on or off by pressing the button on the center console. A light in the button illuminates when the function is on.
The trip computer display shows Lane Depart Warn Standby <40 mph (Lane Depart Warn Standby <65 km/h) when the function is in standby mode.
When LDW is in standby mode, the function is activated automatically after the camera has monitored the road's side marker lines and the vehicle's speed exceeds 40 mph (65 km/h).
Lane Depart Warn Available will be displayed. If the vehicle's speed falls below 37 mph (60 km/h), LDW will return to standby mode and Lane Depart Warn Standby <40 mph (65 km/h) will be displayed.
If the camera can no longer monitor the road's side marker lines, Lane Depart Warn Unavailable will be displayed.
If the vehicle unexpectedly crosses the lane's left or right side marker lines, the driver will be alerted by an audible signal.
No warning signal will be given in the following situations:
The turn signal is being used
The driver's foot is on the brake pedal1
The throttle pedal is pressed quickly1
If the steering wheel is moved quickly1
In sharp turns that cause the vehicle's body to sway
See page 177 for information on the camera's limitations.

WARNING
The driver will only be warned once for each time the wheels cross a marker line. No alarm will be given if a marker line is between the wheels.
See also:
Scan
The function automatically searches the current waveband for radio stations. When a station is found, it is played for several seconds before scanning is resumed. While the station is playing it c ...
Basic sound settings
Press SOUND to display the basic sound setting menu (Bass, Treble, etc). Continue pressing SOUND or OK/MENU to display the other setting alternatives. Adjust the setting by turning TUNE and save th ...
Start
Ignition switch with remote key inserted ( see page 86 for more information on ignition modes) WARNING Before starting the engine: Fasten the seat belt. Check that the seat, steering ...