2012 Volvo XC70 Review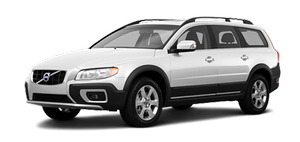 The Volvo XC70 is the quintessential station wagon, the most "Volvo-like" Volvo on the road today. Having one parked in my driveway takes me back to my childhood — riding to and from school in a wood-paneled station wagon, dressed in my finest monogrammed velour jumpsuit, John Denver (on eight-track) filling the voluminous interior.
With the exception of its exterior design, which hasn't evovled enough from the old-school station wagon of the '70s, the 2013 Volvo XC70 is every bit as comfortable and practical a family hauler as its ancestor.
The 2012 XC70 comes in a variety of configurations. I drove the mid-level T6 AWD with a turbocharged 3.0-liter six-cylinder engine and all-wheel drive. The entry-level 3.2 has front-wheel drive. See these trims compared side-by-side with the top-level T6 Platinum AWD here. This year's XC70 hasn't changed much since the previous model year. See the 2012 and 2011 compared here.