Behind the wheel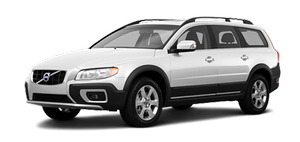 Driving the XC70's turbocharged 3.0-liter V-6 took some getting used to. I appreciated the surprisingly zippy kick-in-the-pants feel, as opposed to the sluggishly heavy acceleration I anticipated in such a large wagon. However, it was hard to get the feel for accelerating smoothly during stop-and-go driving without throwing my passengers' heads back into their seats. During one particularly long errand session, my 11-year-old daughter started complaining of some motion sickness.
The braking is soft in comparison, and switching between gently accelerating and more forcefully braking was a challenge the entire week I drove the Volvo.
I've heard others describe the XC70's cornering as topsy turvy and more consistent with an SUV, but this must be highly subjective. To me, the XC70 felt solid and well-connected to the road in corners, while soft enough to float over rough pavement without discomfort.
The EPA estimates the XC70 T6 AWD's mileage at 17/23 mpg city/highway. The less-powerful 3.2 model with front-wheel drive is more efficient, at 19/25 mpg. If you choose this wagon rather than a similarly utilitarian SUV, it shouldn't be for gas-saving purposes. Volvo recommends premium fuel to optimize the XC70's performance.
See also:
Auto-brake
If a collision is imminent and the driver has not applied the brakes or begun to steer around the vehicle or pedestrian, the auto-brake function is activated without the driver pressing the brake ...
Snow chains, snow tires, studded tires
Snow chains Snow chains can be used on your Volvo with the following restrictions: Snow chains should be installed on front wheels only. Use only Volvo approved snow chains. If accessory, af ...
Seat belt pretensioners
All seat belts are equipped with pretensioners that reduce slack in the belts. These pretensioners are triggered in situations where the front or side impact airbags deploy, and in certain impacts ...