Exterior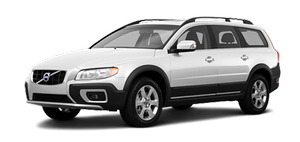 I love retro design as much as the next person, but I tend to appreciate it more in inexpensive things like sneakers, T-shirts or coffee tables that I can get rid of when my taste changes. But $49,000-plus (when loaded) cars that I spend the majority of my daily mom-life in? Not so much.
I'm a huge fan of the XC70's gargantuan cargo area, the powered liftgate, the nice, wide backseat and the kid-friendly step-in height. The old-school boxy wagon design, however, is just a little too suburban housewife for me. Granted, that's essentially what I am: a work-at-home mom in the 'burbs of Denver. Maybe that's why I feel the need to express my inner tigress and stand out from the carpool-lane crowd just a smidge.
I'd prefer something more updated and modern-looking than the XC70. Take the tiny Volvo C30, for example. With its functional hatchback design, it's still a wagon at heart, but the sleek, curvy exterior is totally 21st-century Volvo. It's past time for the XC70 to be stripped of its mom-jeans and forced into something much less comfortable.
See also:
Interior
The XC70 seats up to five occupants on two front buckets and a split folding rear bench seat. An optional two-place rear-facing third-row seat is designed to carry children. Leather seating surfac ...
Changing a wheel
WARNING The undersides of accessory running boards are not intended for attaching the jack. 1. Park the vehicle on a firm, level, non-slippery surface. 2. Engage the parking brake and put the ...
Activation
PAC is activated when the gear selector is moved to R if the system is selected in the MY CAR menu system or by pressing the CAM button in the center console. See page 133 for a description ...