Exterior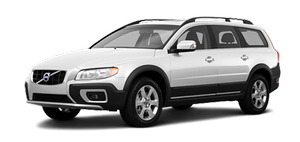 I love retro design as much as the next person, but I tend to appreciate it more in inexpensive things like sneakers, T-shirts or coffee tables that I can get rid of when my taste changes. But $49,000-plus (when loaded) cars that I spend the majority of my daily mom-life in? Not so much.
I'm a huge fan of the XC70's gargantuan cargo area, the powered liftgate, the nice, wide backseat and the kid-friendly step-in height. The old-school boxy wagon design, however, is just a little too suburban housewife for me. Granted, that's essentially what I am: a work-at-home mom in the 'burbs of Denver. Maybe that's why I feel the need to express my inner tigress and stand out from the carpool-lane crowd just a smidge.
I'd prefer something more updated and modern-looking than the XC70. Take the tiny Volvo C30, for example. With its functional hatchback design, it's still a wagon at heart, but the sleek, curvy exterior is totally 21st-century Volvo. It's past time for the XC70 to be stripped of its mom-jeans and forced into something much less comfortable.
See also:
Safety
Like all Volvo models, the XC90 features a comprehensive safety package designed to protect occupants in a wide variety of accidents. Given the higher centre of gravity of an SUV, however, there h ...
Unlocking the doors with the detached key blade
Insert the key blade as far as possible in the driver's door lock. Turn the key blade clockwise approximately one-quarter turn to unlock the driver's door only. NOTE After unlocking t ...
Blower control
Turn the control clockwise to increase or counterclockwise to decrease the blower speed. If AUTO is selected, blower speed will be regulated automatically and this will override manual a ...