Exterior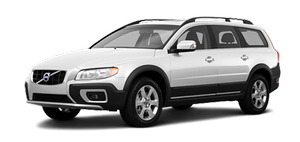 I love retro design as much as the next person, but I tend to appreciate it more in inexpensive things like sneakers, T-shirts or coffee tables that I can get rid of when my taste changes. But $49,000-plus (when loaded) cars that I spend the majority of my daily mom-life in? Not so much.
I'm a huge fan of the XC70's gargantuan cargo area, the powered liftgate, the nice, wide backseat and the kid-friendly step-in height. The old-school boxy wagon design, however, is just a little too suburban housewife for me. Granted, that's essentially what I am: a work-at-home mom in the 'burbs of Denver. Maybe that's why I feel the need to express my inner tigress and stand out from the carpool-lane crowd just a smidge.
I'd prefer something more updated and modern-looking than the XC70. Take the tiny Volvo C30, for example. With its functional hatchback design, it's still a wagon at heart, but the sleek, curvy exterior is totally 21st-century Volvo. It's past time for the XC70 to be stripped of its mom-jeans and forced into something much less comfortable.
See also:
Signals from the park assist system
View in the display (warning for objects front left/right rear) ...
Audio volume and automatic volume control
The infotainment system compensates for disrupting noises in the passenger compartment by increasing the volume according to the speed of the vehicle. The level of sound compensation can be se ...
Convertible Negatives
With the top down, the C70 isn't as proficient as others in its class at cutting down turbulence in the cabin; you'll feel more wind rushing through your hair and "massaging" the side of ...