Installation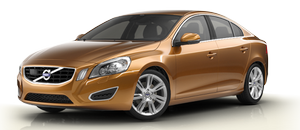 1. Lower the battery into the battery box.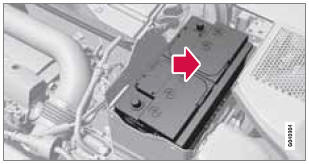 2. Move the battery inward and to the side until it reaches the rear edge of the box.
3. Tighten the clamp that secures the battery.
4. Connect the ventilation hose.
> Be sure that it is correctly connected to the battery and the vent in the vehicle's body.
5. Connect the red positive cable.
6. Connect the black negative cable.
7. Press in the rear cover. (See Removal).
8. Reinstall the molding. (See Removal).
9. Reinstall the front cover and secure it with the clips. (See Removal).
See also:
Faults in the system
If the information symbol illuminates and Park assist syst Service required is shown on the information display, this indicates that the system is not functioning properly and has been disengaged. ...
The front airbag system
The front airbags supplement the three-point seat belts. For these airbags to provide the protection intended, seat belts must be worn at all times. The front airbag system includes gas genera ...
Inflating tires
The tire sealing system can be used to inflate the tires. To do so: 1. Park the car in a safe place. 2. The compressor should be switched off. Ensure that the on/off switch is in position 0 ( ...