Rally bar R-Design models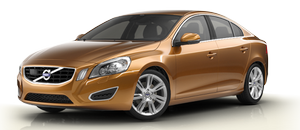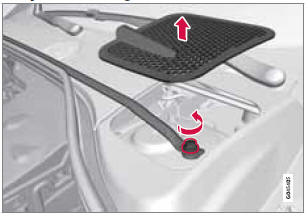 Rally bar and bulkhead hatch
Vehicles with the optional R-Design package are equipped with a rally bar in the engine compartment that must be removed before the battery can be replaced.
1. Remove the hatch in the bulkhead on both sides of the engine compartment (pry them up carefully with a plastic knife or similar object).
2. Remove the screw on each side of the engine compartment holding the rally bar in place.
3. Lift out the rally bar.
> The battery can now be removed (see the instructions in the previous section).
• After a new battery has been installed (see the following section), reinstall the rally bar in the reverse order.

NOTE
When reinstalling the rally bar, tighten the screws to 22 ft lbs (30 Nm).
See also:
Driving Impressions
Volvo's smallest wagon is just as refined and tightly built as the bigger V70, if a bit snug inside. Performance is a strong point with the turbocharged model, but the T5's ride can get rough on h ...
Chassis, steering and brakes
Excellent driving dynamics was a priority for the new Volvo C70. Convertible cars are renowned for poor structural rigidity - which hurts handling response, refinement and safety. By contrast, the ...
More information about registeringand connecting cell phones
A maximum of 5 cell phones can be registered in the hands-free system. Registration only needs to be done once for each phone. After registration, the cell phones can then be found in the list of ...