Location of taillight bulbs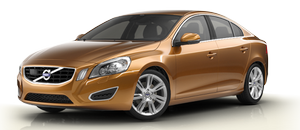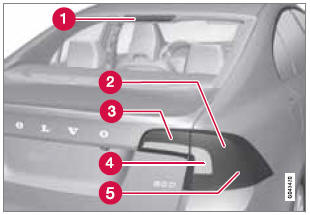 Brake lights (LEDs)
Brake light
Backup light
Turn signals
Rear fog light (driver's side only)

NOTE
If an error message remains in the display after a faulty bulb has been replaced, contact an authorized Volvo workshop.
Backup lights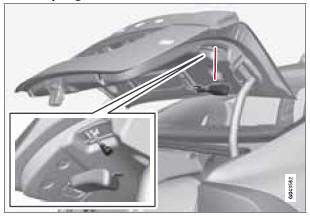 1. Open the panel on the inside of the trunk lid.
2. Remove the bulb holder by turning it counterclockwise.
3. Remove the defective bulb by pressing it in slightly and turning it counterclockwise before pulling it out.
4. Insert a new bulb, press it in slightly and turn it clockwise.
5. Put the bulb holder in place and turn it clockwise.
See also:
Overview
The smallest yet most expressively designed of all Volvos, the C30 has a radical and refreshing appearance. Its unique styling creates its distinct personality whilst closely aligning it to the all- ...
Occupant safety
Safety is Volvo's cornerstone. Our concern dates back to 1927 when the first Volvo rolled off the production line. Three-point seat belts (a Volvo invention), safety cages, and energyabsorbing ...
Moving the vehicle
If the message Normal mode is displayed when Safety mode See manual is no longer displayed, the vehicle may be moved carefully from its present position, if for example, it is blocking traffic ...