Replacing the sealing compound container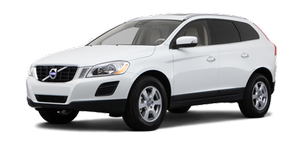 The sealing compound container must be replaced if:
• the tire sealing system has been used to repair a tire.
• the container's expiration date has passed (see the date on decal).
NOTE
• After use, the sealing compound bottle, the hose, and certain other system components must be replaced. Please consult your Volvo retailer for replacement parts.
• If the sealing compound bottle's expiration date has passed, please take it to a Volvo retailer or a recycling station that can properly dispose of harmful substances.
See also:
Switching off the engine
With the engine running, press the START/ STOP ENGINE button. If the gear selector is not in the P position or if the vehicle is moving, press the button twice or press and hold it in until the eng ...
Introduction
The HomeLink1 Wireless Control System provides a convenient way to replace up to three hand-held radio-frequency (RF) transmitters used to activate devices such as gate operators, garage door op ...