Replacing the sealing compound container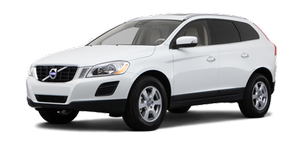 The sealing compound container must be replaced if:
• the tire sealing system has been used to repair a tire.
• the container's expiration date has passed (see the date on decal).
NOTE
• After use, the sealing compound bottle, the hose, and certain other system components must be replaced. Please consult your Volvo retailer for replacement parts.
• If the sealing compound bottle's expiration date has passed, please take it to a Volvo retailer or a recycling station that can properly dispose of harmful substances.
See also:
Common functions: Remote key/Personal Car Communicator (PCC)
Personal Car Communicator (PCC) ...
Seat belt maintenance
Check periodically that the seat belts are in good condition. Use water and a mild detergent for cleaning. Check seat belt mechanism function as follows: attach the seat belt and pull rapidly ...
Pedestrians
The system cannot identify all pedestrians The Collision Warning system can only identify and detect a pedestrian who is standing upright. This person can be standing still, walking or runnin ...